What Is Nutrafol?
Nutrafol is a product line which offers hair growth supplements for both men and women. These are organic products which are high in vitamins, minerals, and antioxidants which nourish, repair, and replenish the hair. In addition, it helps the hair grow in longer, thicker, and with more body and volume. The primary products include:
Nutrafol Women – This is an organic hair growth supplement which is for women in the 18-44 age range. It supports overall hair health and encourages growth and thickness.
Nutrafol Women's Balance – This is a is hair growth product for women ages 45 and up, or who are going through menopause. It includes additional ingredients which help balance the hormones, like maca and saw palmetto.
Nutrafol Men – This hair growth supplement is for men who have experienced hair loss. As men produce more of the hair-thinning hormone DHT, it contains ingredients which block its effects.
Fast Facts
Nutrafol
| | |
| --- | --- |
| Hair Types: | All types |
| Uses: | Hair growth, strengthening, providing thickness and volume |
| Active Ingredients: | Hydrolyzed Marine Collagen, Saw Palmetto, Aswagandha, Tocopherol, Hyaluronic Acid, Horsetail Extract, Curcumin, Black Pepper |
| Prices: | $79 |
| About the Brand: | It's a New York-based hair growth supplement company called Nutraceutical Wellness Inc. |
| Other Brands You May Like: | Har Vokse, Hairburst, HairOmega, HairAnew, and Hair Hero |
What Are the Benefits of Nutrafol?
Benefits
This product could improve hair growth.
Nutrafol might strengthen the hair.
It may enhance the thickness and volume of the hair.
Nutrafol has hair care products for both men and women.
The products are completely drug-free and organic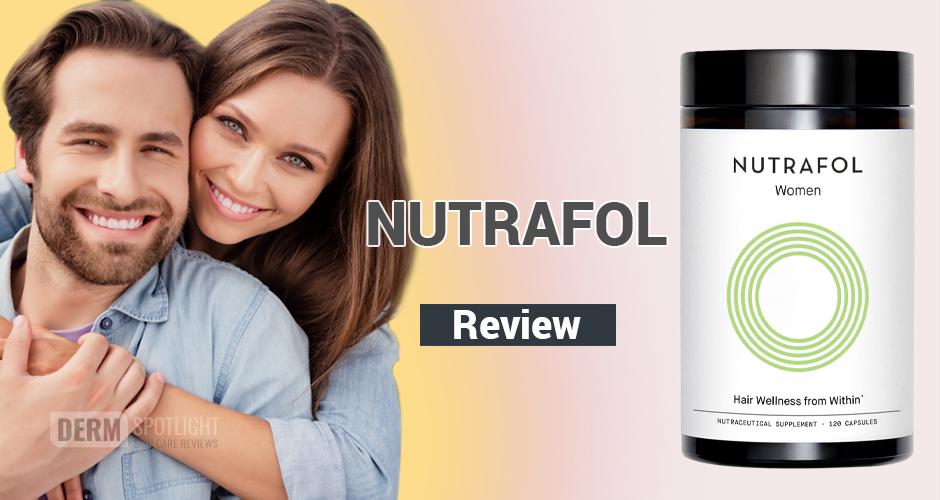 Nutrafol Hair Growth Supplement Review. Image/Dermspotlight
What Is Nutrafol Made Of?
Here are some of the primary active Nutrafol ingredients:
Advertisement
*All individuals are unique. Your results can and will vary.
Zinc
– This is a key mineral required by the body, and in existence in cells all over the body. It supports the immune system and also produces protein and DNA. It's important for the hair because it supports the oil glands around the follicle. In addition, it can repair damage to the scalp and promote hair growth. An article in American Family Physician stated that zinc deficiency can lead to hair loss.
Japanese Knotweed
– This is a plant called Reynoutria Japonica which originates in Korean, China, and Japan. It's used to increase immunity, improve digestion, and treat the health of both the hair and the skin. It's a potent substance for hair growth which has been used in Chinese medicine for this purpose for a long time. According to Oxidative Medicine and Cellular Longevity, this plant is a source of resveratrol.
Curcumin
– This is a curcuminoid derived from the turmeric plant, and it's very high in medicinal properties as referenced in our Gundry MD Vital Roots Reviews article. It contains antioxidants, which repair hair damage and protect it from further harm. It also has anti-inflammatory agents which can help treat scalp conditions. Curcumin can reduce hair loss. A study in the Journal of Drugs and Dermatology suggested that curcumin should be an ingredient used to treat hair loss.
How Does Nutrafol Work?
Nutrafol contains ingredients which block the effects of the hormone DHT. This chemical may cause hair loss, and substances like saw palmetto stop its release so the hair begins to grow. An article in the Journal of Cutaneous and Aesthetic Surgery found little evidence that saw palmetto helped in the management of hair loss.
In addition, the protein keratin is in this formula. As it makes up the hair itself, the additional amount helps to strengthen the hair and give it a shiny look.
In addition, there's evidence to indicate that it can help hair growth. A study in Biotechnology Reports found that keratin led to stronger hair which was less damaged.
Advertisement
*All individuals are unique. Your results can and will vary.
Biotin supports the structure of keratin, which helps strengthen the hair. These supplements are high in vitamins, minerals, and antioxidants which help with overall health and immunity.
The antioxidants help repair damage to the hair and protect it from further harm. There are also anti-inflammatory properties which can help treat scalp conditions and reduce swelling.
How Do I Take Nutrafol?
The manufacturer recommends that you take 4 capsules per day. Do not take more than the suggested dosage as it can be harmful.
Does Nutrafol Have Any Side Effects?
Some of the ingredients in the supplement can lead to mild Nutrafol side effects. For example, saw palmetto could cause nausea, vomiting, headaches, constipation, diarrhea or dizziness (5). Aswagandha may lead to vomiting, diarrhea, or stomach upset (6).
Read Also – Moon Juice Superhair and Nioxin Recharging Complex
How Much is Nutrafol and Where Can I Buy It?
You can buy Nutrafol on the manufacturer's website, on Amazon, eBay, and on a few other online sites. The prices on the official site are as follows:
Nutrafol Women – $79
Women's Balance – $79
Nutrafol Men – $79
The De-Stress Hair Growth Duo – $89/month
Gut Restore Hair Growth Duo – $89/month
The Hairline Defender Growth Due – $89/month
What is the Return Policy for Nutrafol?
The manufacturer has a 30-day return policy, for items that are still in their original condition and packaging. If you are not happy with the item, contact Nutrafol customer service by e-mail and then send it back within 30 days of the original purchase date. You'll get a full refund or exchange.
Nutrafol Alternatives
| Brand | Price | Active Ingredients |
| --- | --- | --- |
| Valotin Hair Growth Support Supplement | $24.95 | Vitamin D3 (as cholecalciferol), Iron (as Ferrous fumarate), Folate, Zinc |
| Vibrance Hair Growth Vitamins | $29.99 – one time; $26.99 with subscription | Biotin, MSM, Zinc, Iodine, Bamboo Extract, Boron, Inositol |
| Hair La Vie | $20- low 30s | Keratin, Amino Acids, Horsetail, Soy Protein, Capixyl, Ecklonia Cava |
| Viviscal | $49.99 – supplements; $9.99 – shampoo, conditioner, elixir | Keratin, Biotin, Zinc, Nutmeg, Bitter Orange, Vitamin C |
| Groh Hair | $36-150 | Mushroom Extract Ergothioneine, Aloe Vera, Yucca, Horsetail Extract, Nettle Extract, Lemon Balm |
People Also Ask
Q: How Are the Reviews for Nutrafol?
A: Overall, the Nutrafol for women reviews were similar in content to the Nutrafol men reviews. Most of the users loved this product and found it very helpful at both growing their hair and giving it body and a healthy shine. There were a smaller number of customers who didn't get a lot of benefit from the supplements.
Q: Is Nutrafol Worth the Money?
A: Nutrafol is an expensive supplement, but it's also a quality product for both men and women with high-level organic ingredients. According to the reviews, the Nutrafol results were very positive and people said that it helped their hair grow in thick and full. There were a few complaints from unhappy users, but not many. These supplements do seem to be worth it.
Q: Is Nutrafol a Safe Product Line?
A: Generally speaking, the ingredients in these products are very safe, quality substances which research supports. There are a few health conditions which preclude taking these supplements. These include thyroid disorders, liver disease, and auto-immune diseases. In addition, if you are having surgery within 2 weeks, don't take these products (5,6).
Advertisement
*All individuals are unique. Your results can and will vary.
Q: How Does Nutrafol Compare to Other Hair Care Product Lines?
A: Nutrafol is more costly than most of the other hair growth supplements on the market. However, overall, it has a richer collection of substances than a lot of other supplements. Some of the ingredients overlap with other brands, but there's a higher number of vitamins and minerals in this brand as well as botanical substances.
Q: Does Nutrafol Work?
A: Based on the ingredients included in this supplement, it should work. It's rich in antioxidants which repair and protect the hair and others that deeply nourish it like vitamins, minerals, and amino acids. Keratin strengthens the hair and helps it grow, as does horsetail.
According to both the Nutrafol men reviews and the Nutrafol for women reviews, this is an effective product that works well. Users appreciated the Nutrafol before and after.
Q: Can Nutrafol Cause Weight Gain?
A: There are no ingredients in Nutrafol which would lead to weight gain. In fact, a couple of reviewers said they lost weight taking these supplements, although it's not clear why exactly.
Q: Where is Nutrafol Manufactured?
A: The manufacturer of this product is Nutraceutical Wellness Inc, which started in 2013. They produce their items in New York, New York. The organization makes nutraceutical supplements which initiate hair growth.
Q: How Long Do You Take Nutrafol?
A: Hair growth takes time, so the manufacturer recommends that you use this product for a full 6 months in order to see solid results. Most people indicate that they see significant hair growth in 3-6 months.
Conclusion
Nutrafol is a product line of supplements which promote hair growth and overall health. There is Nutrafol for men and Nutrafol for women, and they both promise to strengthen the hair and give it volume, thickness, and body. These products are costly for the market, but they are high-quality brands which should be effective at enhancing overall hair health.
The variety of reviews for this supplement were mostly very positive, from both the Nutrafol men reviews and the Nutrafol women reviews. People said that it took a bit of time to see full results, but in the end, it really did promote hair growth and health. A few users didn't get the Nutrafol results they had hoped for, but it was a small group.
There are some health warnings for this product that you must heed. In addition, you may have Nutrafol negative side effects due to some of the ingredients. If you have unpleasant symptoms, stop using the product. Before you begin taking the supplement, go see your doctor get medical approval.
Up Next – ScalpMED and KeraViatin Hair