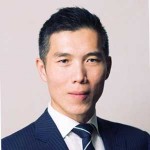 Jeffrey T.S. Hsu, M.D., FAAD

Director of Dermatologic, Cosmetic, and Laser Surgery at Oak Dermatology
Highlights
Board certified dermatologist with fellowship training in laser and cosmetic surgery.
Graduate of Stanford, UCLA, Mayo Clinic, with further training by faculty from Harvard and Yale.
National and international educator and lecturer on minimally invasive cosmetic procedures and laser surgery.
Expertise
Dr. Jeffrey T.S. Hsu is a fellowship-trained, board-certified dermatologist with expertise in neurotoxins, laser surgery, Mohs micrographic surgery, fat transfer, soft tissue augmentation, and scar revision. Dr. Hsu specializes in minimally invasive techniques for facial and body rejuvenation.
Education and Training
Dr. Hsu graduated with distinction from Stanford University where he earned the coveted President's Award for academic achievement. He received his medical degree from the University of California at Los Angeles, earning top honors along the way. He then completed an internship in Internal Medicine and residency in Dermatology at the Mayo Clinic. He pursued further training by completing a Laser and Cosmetic Surgery fellowship under the direction of faculty from Harvard University and Yale University School of Medicine.
Academic Pursuits and Teaching
Dr. Hsu is also passionately involved in teaching and academic pursuits. He is an internationally recognized expert in dermatologic and cosmetic surgery, frequently invited to teach other physicians in Asia, Australia, and Europe while continuing to care for his patients at home. He has already co-authored several widely used textbooks; the latest publication is the Manual of Dermatologic Therapeutics 8th Edition. He is the author of numerous scientific articles in leading dermatology journals and is regularly invited to present his newest techniques and his latest scientific discoveries at national and international conferences. Dr. Hsu is a Clinical Assistant Professor at the University of Illinois-Chicago. Dr. Hsu's memberships include the American Academy of Dermatology, American Society for Dermatologic Surgery, the American Society for Laser Medicine and Surgery, the American Society for Mohs Surgery, International Society of Hair Restoration Surgery, the American College of Phlebology, and the American Medical Association.
Current Position
Dr. Hsu is the Co-Founder and Co-Director of Oak Dermatology, based in Chicago, IL.