What Is 4Life Transfer Factor?
4Life Transfer Factor also known as the immune system company is a brand that designed the best possible products that boost the immune system by educating immune cells to remember, recognize and respond to potential health threats.
In medicine transfer factors are chemicals that enhance immunity by activating messenger molecules that detect health threats. Transfer factors are used in individuals with weak immune systems caused by infectious conditions from viruses or bacteria.
4Life Transfer Factor products are designed using a transfer factor proprietary blend that contains proteins and peptides from chicken egg yolk and cow colostrum. Proteins and peptides from 4life proprietary concentrate blends have been shown to prevent infection through the transfer of antigen-specific cell immunity.
Products from 4Life Transfer Factor Company aid to generate immunity that fights against diseases. Despite no scientific evidence, 4Life Transfer Factor testimonials indicate that the products help fight infectious diseases such as tuberculosis, parasitic infections, and certain types of cancers.
4Life Transfer Factor Review. Image/Dermspotlight
Claims
4Life Transfer Factor products claim to enhance the body's ability to remember, recognize and respond to health threats. The company believes the use of proprietary concentrates of NanoFactor, OvoFactor, and UltraFactor enhance the body's response to fight diseases although there are very limited experimental studies on the claim.
Due to some users' use of certain products as an alternative treatment for identified serious conditions. 4Life Transfer Factor warns its users through information on the products that there are no approved therapeutic claims. The products are only intended to enhance the immune system function.
4Life Transfer Factor product line claims that its products are unique from other vitamins, herbs, or mineral supplements as the ingredients in the products educate the immune system ensuring it stays active, balanced, and healthy.
Fast Facts
4Life Transfer Factor
Editor's Rating:
3.8 / 5.0
Features:
Supports natural killer (NK) cell activity during health threats
Activates and supports the production of B and T cells in the immune system
Educates, balances, and enhances the immune system
Ensure healthy, innate function of the immune system
Form:
Capsule
Type:
Supplement
Brand:
4Life Transfer Factor Plus
Contact:
Contact Form
Address:
9850 South 300 West Sandy, UT 84070
Phone: 801-562-3600, 888-454-3374 | Email: [email protected]
International Contact Information
Email:

[email protected]

| Phone: 801-256-3102
Ingredients:
Zinc, Super Mushroom Blend, Extracts of Cow Colostrum ( UltraFactor and NanoFactor), and Chicken Egg yolk (OvoFactor)
Cost:
$44.00
Dosage:
Take 2 capsules daily
Best Selling 4Life Products
#1: Transfer Factor Plus
What It Does:
Supports production and function of immune cells, educates, balances, and boost the immune system
Key Ingredients:
Inositol hexaphosphate, NanoFactor, Ovofactor, Ultrafactor, Zinc methionine
Price: $60.00
---
#2: Transfer Factor RioVida
What It Does:
Immune boosting, protect the body from free radicals, helps the body respond to health threats
Key Ingredients:
Vitamin C, Glycerin, amino acids, polyphenols, fatty acids, bioflavonoid- rich natural fruit juices such as blueberry, acai, and pomegranate
Price: $33.00
---
#3: 4Life Transfer Factor Classic Powder Formula
What It Does:
Educates the immune system to respond to health threats, boosts NK cell activity during potential health threat
Key Ingredients:
Ultra-filtered 4Life Factor proteins, peptides
Price: $79.00
---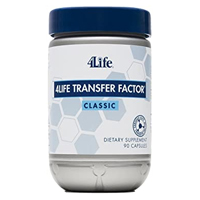 #4: Transfer Factor Classic
What It Does:
Enhance the immune system's ability to respond, recognize and remember possible health threats
Key Ingredients:
UltraFactor
Price:
$41.00
---
#5: Immune Spray Mint
What It Does:
Enhances immune system function, increases the number of immune cells
Key Ingredients:
UltraFactor, NanoFactor, Colloidal Silver, Zinc
Price: $27.00
---
4Life Transfer Factor Review – How Does it Work?
4Life Transfer Factor research dwells on transfer factor proprietary blends that contain protein-based cells that can transfer immunity and provide health benefits. The blends educate the body to recognize, respond and react once faced with potential health threats.
4Life Transfer Factor clinical studies conducted on animals indicate significant growth and weight gain in the study cases after tests on transfer factor proprietary blends. (Ultrafactor, OvoFactor and NanoFactor). Transfer factor claims cannot be curtained as no clinical tests have been carried out on humans with proven effectiveness.
The products contain bovine colostrum derived from cows that is rich in immunity, antimicrobial benefits, and growth. Colostrum also promotes tissue growth. Scientific evidence also proves that colostrum is beneficial when given to newborns who are unable to breastfeed.
Experts Take:
A study conducted in 1955 by Dr. H. Sherwood Lawrence who discovered transfer factors in 1949, shows that delayed-type hypersensitivity and cell-mediated Immunity (CMI) can be transferred from a positive to a negative individual with the negative individual resulting to be positive. source
According to Michael Sternbach, Harvard Medical School's Professor of Microbiology, there is really no hard evidence to show whether Zinc, vitamins or probiotics intented to they immune actually help users stay healthy for long – source
What Are the Ingredients In 4Life Transfer Factor?
Ultra-Factor
It is a proprietary concentrate of ultra-filtered peptides extracted from cow colostrum and proteins. Amino acids from peptides and proteins compose body hormones that are chemical messengers of information between organs, cells, and tissues.
Proteins form antibodies that fight disease-causing bacteria. Ultra factor proprietary concentrate blend enables the body to remember the antibodies once produces against a certain infection.
OvoFactor
It is a combination of peptides from chicken egg yolk and proteins. A Journal of Food and Agricultural Immunology shows bioactive peptides obtained from egg yolk displayed immunomodulation effects.
Studies also show that egg yolk proteins contain lysozyme enzyme that contains antibacterial properties. Egg proteins play an important role in the prevention and treatment of a variety of diseases.
NanoFactor
It contains nano-filtered cow colostrum. Colostrum may boost immunity as it contains a high concentration of IgG and IgA antibodies. Colostrum supplement enhances the function of the immune response.
Zinc
Zinc is important for the creation of DNA, immune function, cell growth, building proteins, and healing. Zinc is vital for the immune system as it helps cells multiply, grow and signal messages around the body.
Pros and Cons of 4Life Transfer Factor
Pros
Boosts cell activity
Educates the body to recognize, remember and react to health threats
Support general health and wellness
Regulates over reactive immune system
No reported side effects
Cons
There are no proven clinical studies of its effectiveness
High demand for certain products might lead to low stock
May not provide similar results to each individual
FAQs
Q: What is 4Life Transfer Factor Good For?
A: 4Life Transfer factor educates the immune system to recognize, react and remember potential health threats. The products are designed to support healthy immune function.
Q: How Do I Use 4Life Transfer Factor?
A: 4Life recommends capsule dietary supplements to be taken in 2 capsules accompanied by 8. oz. of water.
Q: Where Can I Buy 4Life Transfer Factor?
A: 4Life Transfer Factor is available on the company's official website at discounts. The products can also be bought on other third-party websites such as Amazon. It is wise to acquire the products from the official websites in to enjoy wonderful discounts and avoid risks such as the purchase of counterfeit products.
Q: Are There Any Precautions To Taking 4Life Transfer Factor?
A: For children, pregnant and nursing mothers, it is recommended to seek to consult with a physician before intake of the supplements. Individuals with medically diagnosed conditions should not use 4life transfer factor supplements as an alternative medication.
Q: Are There Any Side Effects To 4Life Transfer Factor?
A: 4Life Transfer Factor is a dietary supplement that is marketed to boost the immune system. According to the company's website, the product is safe and has no known side effects. However, as with any supplement, there is always a chance of an allergic reaction or an interaction with other medications. If you experience any adverse effects after taking 4Life Transfer Factor, it is important to stop use and consult your healthcare provider.
Q: What Do Real Users Say?
A: 4Life Transfer Factor customer reviews are more of balanced. Customers satisfied with the product were happy about how the product enhanced their immunity as they had witnessed a positive significant change in their health conditions. Those who indicated negative reviews were highly disappointed since the products did not seem to be effective as there occurred no change in their health.
How We Researched & Rated
Based on scientific research, below is a score of how 4Life Transfer Factor will be effective in the benefits it claims:
| Researched | Rated |
| --- | --- |
| Immune Support* | 4/5 |
| Brain Function Support* | 2/5 |
| Heart Health Support* | 3/5 |
| Improve Glucose Levels* | 2/5 |
The Bottom Line
4Life Transfer Factor immune system company is one of the bestselling immune system dietary supplements. The products are of high quality, researched proprietary formula ingredients that aim to enable the body to recognize, remember and react to health threats.
4Life Transfer Factor products not only support the immune system but also promote overall health and wellness. 4Life Transfer Factor product line utilizes the science behind transfer factors that positively impact immune response and natural killer cells.
The products are relatively affordable and have huge discounts once sourced from the official website. In compliance with Federal Trade Commission (FTC), 4Life Transfer Factor has advertised on its products that the supplements are not to be used as an alternative treatment for known conditions.
Based on 4Life Transfer Factor testimonials I highly recommend the use of the immune system company's products.