What is Essential Skin Food?
ActivatedYou Essential Skin Food is an all-natural supplement which promotes anti-aging and health benefits for the skin. This plant-based formula can tighten the skin and improve elasticity, smoothing wrinkles and fine lines on the complexion.
It can enhance cell turnover, hydrate, eliminate dry skin, repair damage to the skin barrier, and protect from UV rays and other environmental factors. Our team of dermatologists and skin care experts recommends this brand highly to anyone looking to revitalize the skin.
Based on my own research, I believe this to be one of the best skin enhancement supplements on the market today. Let's look at some of the details of ActivatedYou Essential Skin Food how it works, the ingredients it contains, the various health benefits it offers, and many more.
Brand Highlights
Essential Skin Food ingredients are all 100% naturally sourced.
They do third-party testing on all formulas carefully to ensure quality and purity.
They manufacture in a facility in the USA and follow strict safety guidelines.
It's suitable for vegetarians diets.
Fast Facts
Essential Skin Food
Best For:
Smooth, Tight, and Youthful Skin

The manufacturer produces Essential Skin Food in the U.S in a GMP compliant facility.
You can expect potent results within few weeks of use.
It's full of nutrients that encourages healthy collagen production for firmer, plumper-looking skin.
Essential Skin Food ActivatedYou includes no artificial ingredients or fillers.

Active Ingredients:
Pomegranate, Mangosteen, Asparagus, Camu Camu, L-Lysine, Acerola Extract, Okra, Quercetin, Acai, L-Proline, Coffee Berry Extract, French Maritime, Pine Bark Extract, Vitamin C
Feature:
Plant Based
Type:
Capsule
Price:
$49.00
About The Brand:
The manufacturer of Essential Skin Food is a health and wellness brand called ActivatedYou founded by actress and nutritional expert Maggie Q in 2018. Dr. Frank Lipman is a major advisor, and together they developed a collection of wellness products which support digestion, skin care, general health and immunity, and other issues. The company headquarters is in Santa Monica, California.
Where To Buy:
Official Website
Pros and Cons of Essential Skin Food
Pros
This supplement can tighten the skin and improve elasticity.
ActivatedYou Essential Skin Food can smooth wrinkles and fine lines.
It repairs damage to the skin barrier.
It's full of vitamins, minerals, amino acids, and antioxidants.
Essential Skin Food ActivatedYou can enhance cell turnover.
Cons
You can't buy it in stores, only online.
The results will vary for different users.
The free shipping for orders over $50 deal is only for American residents.
How Does Essential Skin Food Work?
ActivatedYou Essential Skin Food contains ingredients which increase the amount of collagen in the skin, as it tends to diminish with age. This can firm the complexion and improve elasticity, smoothing wrinkles and lines.
A study in Nutrients concluded that an oral collagen supplement improved skin parameters like hydration, elasticity, and density [1].
The formula also contains hydration which can eliminate dry skin and give it more volume, further smoothing lines. There are ingredients which improve circulation, enhancing the overall health of the completion and giving it a radiant glow.
Essential Skin Food is high in anti-inflammatory agents which may lessen redness and swelling and help treat skin conditions.
It's also replete in antioxidants which destroy free radicals and decrease oxidative stress. This boosts overall skin health, corrects skin barrier harm, and protects from UV rays and pollutants. An article in the Journal of Dermatological Science explored the key role that antioxidants play in the skin [2].
What are the Essential Skin Food Ingredients?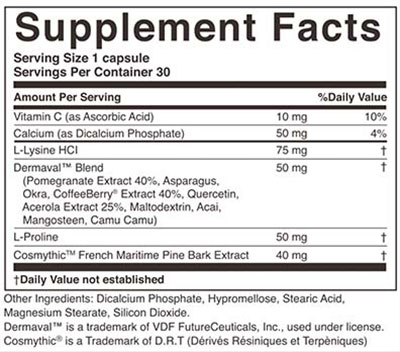 ActivatedYou Essential Skin Food Supplement Facts
Essential Skin Food combines Dermaval, Vitamin C, Triple Amino Acid Complex, and Cosmythic. Each daily serving contains the following proportion of the ingredients:
Dermaval™ (50 mg)
Vitamin C (10 mg)
L-Proline (50 mg)
L-Lysine HCI (75 mg)
Cosmythic (40 mg)
Below, we'll explain some of the key ingredients in Essential Skin Food:
Mangosteen
This fruit is high in antioxidants and bioactive substances which provide anti-aging benefits to the skin. It has potent anti-inflammatory agents and can treat skin conditions like eczema.
It protects the skin from future harm and fixes any damage to the skin barrier. The Journal of Physics Conference Series concluded that mangosteen in a skin peeling product had powerful antioxidant activity [3].
Pomegranate Extract
Rich in nutrients and antioxidants like Vitamin C, this fruit can smooth wrinkles and lines, eliminate hyperpigmentation, and exfoliate dead skin cells. Pomegranate may be an effective treatment for acne.
It has anti-microbial benefits and can destroy harmful bacteria. A study in Scientific Reports found that pomegranate can lead to enhanced protection from UV damage [4].
Vitamin C
This is a powerful antioxidant which can repair the skin barrier, protect from UV rays, and block melanin production for lighter skin free of dark spots.
It's high in anti-inflammatory agents which can decrease redness and help heal skin conditions, and it boosts collagen for smooth, wrinkle-free skin.
SUMMARY
An article by the Linus Pauling Institute explored Vitamin C and its benefits for skin health [5].
Benefits of ActivatedYou Essential Skin Food
ActivatedYou Essential Skin Food is a supplement that can help anyone achieve smooth, tight, and youthful-looking skin at any age. Here are some of the benefits of using Essential Skin Food:
Fewer Visible Wrinkles and Fine Lines
Essential Skin Food supports the natural fullness of your skin. Collagen, the primary structural protein, plays a crucial role in maintaining skin's elasticity and smoothness. This supplement boosts collagen production which helps in reducing wrinkles and fine lines for a youthful, vibrant look.
Smooth, Supple, and Radiant Skin
This skin-nourishing supplement promotes a process known as healthy cell turnover. This means that old skin cells are replaced with new ones more effectively. As a result, your skin looks and feels smoother, suppler, and radiates a natural glow.
Tighter and Firmer Skin Texture
Elastin is another essential component of skin that provides elasticity. Essential Skin Food plays a pivotal role in preventing the breakdown of elastin, which can lead to sagging skin. By maintaining the goodness of elastin fibers, this supplement visibly tightens and firms the texture of your skin, promoting a more youthful and toned look.
Clear, Hydrated, and Healthy-Looking Complexion
Free radicals are molecules that can damage your skin, causing premature aging and a lackluster complexion. Essential Skin Food is equipped to combat these skin-damaging free radicals. By doing so, it aids in promoting a clear, hydrated, and overall healthy-looking complexion. This contributes to the overall health and vibrancy of your skin.
Essential Skin Food FAQ
Q: How Do You Take Essential Skin Food?
A: The recommended dosage is one capsule per day, taken with a full glass of water and food. Do not take more than this amount for any reason.
Q: Who should use Essential Skin Food?
A: Essential Skin Food is a skincare supplement designed for people who want to improve the health and appearance of their skin from within. It contains vitamins, minerals, and antioxidants that can support collagen production, cell turnover, and skin elasticity. In general, anyone who wants to boost their skin health and reduce signs of aging through a supplement can consider Essential Skin Food.
Q: Where Can I Purchase Essential Skin Food?
A: This product is only available on the official website, which means that you know for certain that you are getting the genuine supplement. The manufacturer is offering free shipping for U.S orders over $50.
You can make a one-time purchase or buy in bulk to save money. If you sign up to become a VIP, you get additional deals. Sometimes they also offer a promo code. The prices are as follows:
1 Jar – $49.00
3 Jars – $134.00
6 Jars – $254.00
Q: What is the Essential Skin Food Return Policy?
A: The manufacturer offers a 90-day money-back warranty for all products purchased on their site. If you are not happy with the product, contact the company for instructions and send it back within 90 days of the day they shipped it to you. You'll get a full refund, minus shipping and handling charges.
Q: Is Essential Skin Food Cruelty-Free?
A: The manufacturer of this Essential Skin Food supplement is offering a 90 day "Activated Promise". If you are not happy with the product, let the company know and then send the bottles back within 90 days of the day you made the purchase.
You can send the bottles either opened and used or sealed. You should get a full refund of the purchase price.
Q: Is Essential Skin Food Safe?
A: Yes, it is safe. ActivatedYou formula prioritizes both the purity of its products and the safety of each ingredient. In addition, the products are formulated with natural and plant-based compounds. Furthermore, ActivatedYou Essential Skin Food ensures user safety through third-party lab testing.
Q: Does Essential Skin Food Really Work?
A: Yes. According to Essential Skin Food reviews by the customer and our research, the supplement is completely worth it since it delivers the promised skin benefits. Essential Skin Food aims to offer the best skin enhancement supplement option for improving overall skin health.
Q: Is Essential Skin Food Legitimate?
A: There's really no doubt at all that this is a legitimate product and brand. The company is well known and respected for their high quality products, and they have a real street address in Santa Monica, California. I read dozens of Essential Skin Food reviews online that attest to the legitimacy of this supplement.
Q: Are there any side effects of using Maggie Q's Essential Skin Food supplement?
A: Based on the ingredients list, Essential Skin Food appears to contain vitamins, minerals, and plant extracts that are generally recognized as safe when consumed as directed. However, as with any supplement, there is a chance of side effects for some individuals. So, it's better to consult your doctor first before taking any supplement as every individual results may vary.
Q: What Sets Essential Skin Food Apart From the Competition?
A: ActivatedYou Essential Skin Food is much richer in all-natural ingredients than most skin supplements on the market, and the blend is quite unique with several uncommonly included highly effective ingredients.
Official Video of Essential Skin Food | ActivatedYou
Is Essential Skin Food Worth It? | ActivatedYou With Maggie Q (Video Credit: YouTube)
What Do the Customers Think of Essential Skin Food?
I found that the majority of the Essential Skin Food reviews were very positive, which is consistent with feedback on this brand overall. ActivatedYou has earned a rating of 4.4 out of 5 on Trustpilot, based on 1,162 reviews. Additionally, on Better Business Bureau the company holds a rating of 4.11/5, derived from an average of 629 customer reviews.
Customers loved the anti-aging and rejuvenating benefits of this formula, and many said they had already put in another order. I have selected some of my favorite reviews, so you get an idea of what users are saying.
Essential Skin Food

I've been taking it for about a month, and I noticed that my skin is smoother! I told my husband about it, and he decided to start taking it too! we're hoping for better results on the dark spots and wrinkles, but maybe it's still too early to get those results! Overall, we're very satisfied!Solange
Great Value

It wasn't until recently where I was unable to have access to my Essential Skin Food and Morning Complete that I realized the daily benefits of these two supplements!

I have had much better skin texture as well as digestive health using both these products and I realize the value of the results now not having them for over a week! Wish I had found this product sooner!Nancy Y.
Love This Skin Tablet

I have been taking it for six weeks and have noticed a great difference as far as the fine lines on my face. I'm not sure how long you have to take it to keep this look up, but I will take it for as long as I need to because I love it.Lisa
ActivatedYou Essential Skin Food Before and After
The visual evidence from the pictures indicates a significant skin transformation. The individual's skin in the initial photo looks dull with uneven tone and texture. However, in the later photo, their complexion appears significantly improved, showcasing a brighter and more even tone. This suggests that Essential Skin Food may have helped improve the individual's skin health and appearance, though other factors could also be at play.
ActivatedYou Essential Skin Food Before and After
How Does Essential Skin Food Compare with Other Brands?
Product
Benefits
Ingredients
Return Policy
Beverly Hills MD Dermal Repair Complex

$39.95

Hydrolyzed Collagen, Silica, Wild Yam Extract, Saw Palmetto Powder, MSM, Hyaluronic Acid
Firms, tones, and smooths face and body, strengthens the hair and nails
90-Day Money Back Guarantee
Gundry MD BioSkin Youth Complex

$69.95

Cherry Blossom Extract, Current Extract Powder, Lactobacillus Plantarum, Lactobacillus Reuteri
Improves sagging and dullness, smooths wrinkles and lines, supports gut health, improves hair health, eliminates crepey skin
90-Day Return Policy
LCR Health Master Cell

$49.95

Zinc, L-Ornithine, Folate, Vitamin B6, Vitamin B2, Agmatine Sulfate, Vitamin B12, SAMe
Boosts skin health, rejuvenates cells, provides anti-aging benefits to skin and body, energy, weight loss
90-Day Return Policy
How Does Essential Skin Food Rate?
| Feature | Stars |
| --- | --- |
| Ingredients | 5/5 |
| Manufacturer | 4.7/5 |
| Benefits | 4.7/5 |
| Price | 4.7/5 |
Essential Skin Food Review – Conclusion
Essential Skin Food is one of the Best Anti-Aging Supplements which offers various benefits for the skin as well as hydration and rejuvenation. The formula can firms the complexion, smooth wrinkles and lines, and repair and protect your skin from damage. This is a quality product which comes highly recommended by dermatologists everywhere.
I read through dozens of Essential Skin Food reviews and loved how very positive they were. Many users cited amazing anti-aging properties, as well as other benefits like softening and hydrating the skin. They adored the Essential Skin Food before and after pictures and discovered that the product offers younger-looking appearance. There was very little mention of side effects like skin rash.
I recommend Essential Skin Food due to the inclusion of key defining ingredients that are rigorously tested for supple, plump, and well-nourished skin. In particular, Dermaval Blend compounds like Pomegranate Extract, Coffeeberry, Quercetin, and Camu Camu to fight elastin breakdown in the body and support skin's elasticity and firmness. Additionally, the moisture retention and skin-repairing properties of L-Proline contribute to maintaining the skin's suppleness, plumpness, and nourishment.
Essential Skin Food is a quality product made by a top brand, and the ingredients are safe. Based on my own research, I think this is an excellent product which offers real and powerful benefits to the complexion.
READ NEXT – Bellabiotics Reviews and Modere Liquid Biocell Pure