What is Cellulite Cream?
You may already have noticed some cellulite on your hips or thighs. Those areas of dimpled skin that disrupt the smooth surface. Women are far more likely to develop cellulite than men, partially due to hereditary and hormonal reasons. Therefore, many women find cellulite disturbing and are looking for a good way to eliminate it.
Cellulite cream is a good way to reduce the appearance of these unpleasant bumps and dimples on your skin. There are many luxurious lotions on the market which are rich in organic skin care ingredients that are very effective for improving signs of cellulite and other signs of aging.
Cellulite Cream Ingredients
Here are some of the ingredients you should look for when purchasing cream for cellulite if you want a quality product that will do the job.
Retinol – This is a Vitamin A derivate. It repairs damage to the skin caused by many factors and eliminates the signs of aging like wrinkles and according to some professional opinions lessens the signs of cellulite. A study published in Arch. Dermatology found that retinol naturally improves matured skin.
Vitamin C – This is a potent antioxidant which can fix most harm to the skin barrier. It's also a potent anti-inflammatory agent that diminish redness and swelling. In addition, Vitamin C can protect against sun damage. An article published in Nutrients examined the role of Vitamin C in skin health, and its multiple benefits.
Aloe Vera – This is an evergreen plant from the Arabian Peninsula. It delivers moisture for the skin, and it has anti-aging properties. It can improve skin conditions like eczema. In it´s leaves it contains oil with medicinal properties. An article in BioMed Research International found that aloe vera has potent wound-healing properties.
Our Ranking and Reviews of the 15 Best Cellulite Creams for 2021! Image/Dermspotlight
Which Cellulite Cream is Best?
There are so many cellulite creams on the market today, it's difficult to know which one is your best bet. Luckily, we've done the research for you and picked out the 16 best cellulite creams which you can buy. Here are the details so you can go ahead and choose your favorite!
Life's Butter
This rich product is our top pick of the best cellulite cream on the market. Not only has the ability to reduce cellulite, but it has fat-burning ingredients that can help you lose weight. It will tone the body and leave it smooth with almost no bumps and dimples. According to the reviewers, this is cellulite cream that works.
Additional Benefits: Non-greasy, free of sulfates and parabens, not tested on animals
Ingredients: Lemon Extract, Coconut Extract, Chrondrus Crispus, Nelumba Nucifera
Price: $39
---
Skinceuticals Body Tightening Concentrate
This is an anti-aging body cream which works to tighten the skin, smoothing wrinkles, lines, sagging, and other abrasions on the skin. It's a hydrating formula which moisturizes, and it can also ease skin conditions with its anti-inflammatory properties. It smooth the skin, cools it down, and relaxes it.
Additional Benefits: It's a cry-fluid which cools the skin after application. In addition, it's available in retail stores as well as online.
Ingredients: Peptides, 4% Niacinimide and Hydrolyzed Rice Protein
Price: $59.77
---
Clarins Body Fit Anti-Cellulite Contouring Expert
This is a luxurious contour cream-gel which can begin eliminating cellulite from the first minute you apply it. It contains ingredients which firm the skin, eliminating bumps and dimples and other signs of aging. It also deeply hydrates your skin and leaves it smooth to the touch.
Additional Benefits: This product is suitable for all skin types, including sensitive skin.
Ingredients: Caffeine, Tocopherol, Dimethicone, Mentha, Hazel Seed Oil, Cydonia Oblonga Leaf Extract, Sunflower Seed Oil, Menthol
Price: $92
---
Caudalie Vinosculpt Lift & Firm Body Cream
This elegant cream for cellulite lifts and firms 4 target areas of your body to eliminate cellulite: your arms, waist, legs, and bum. It will get rid of lumps and dimples and leave your skin as smooth as silk. It contains ingredients which nourish the skin, leaving it healthy and supple. It also hydrates the skin, moisturising and helping to smooth it.
Additional Benefits: It's not greasy, and it has the lovely scent of orange blossom. They use no ingredients of animal origin, so this is suitable for vegetarians.
Ingredients: Grape Seed Oil, Shea Butter
Price: $45
---
Sol De Janeiro Brazilian Bum Bum Cream
This luscious cream for cellulite won the Glamour Beauty Readers' Choice Award Winner for Best Body Lotion in 2020. It's a rich cream that burns fat cells to remove cellulite. This cellulite cream with caffeine also improves your circulation, giving the skin a rosy glow and enhancing the appearance of health. It's fast-absorbing and deeply hydrating, moisturizing your skin.
Additional Benefits: It has the tasty scent of salted caramel, vanilla, and pistachio. It contains no parabens, sulfates, and phthalates. You can buy this cellulite cream at Walmart, on Amazon, on the official site, and from other retail sites.
Ingredients: Guarana, Acai Oil, Brazil Nut, Coconut Oil, Guayusa, Capuacu Butter
Price: $45
---
Paula's Choice Retinol Skin-Smoothing Body Treatment
This cellulite cream with retinol is a very hydrating formula which enriches and moisturizes the skin. It's rich in oils and butter which smooth your skin and leave it soft. It contains antioxidants which can improve skin damage and help eliminate the cellulite. This is a reasonably priced product which contains a quality collection of ingredients.
Additional Benefits: It's suitable for all skin types, including sensitive.
Ingredients: Evening Primrose Oil, Retinol, Peg-100, Ascorbate, Magnesium, Vitamin E, Cetyl Alcohol, Cetyl Palmitate, Panthenol
Price: $29
---
Bliss Fabgirl Firm Body Cream
This lovely cellulite cream with caffeine is able to break down fat cells underneath the skin and get rid of cellulite. It also improves circulation, enhancing the skin's health, and making it radiant looking. This formula makes the skin tighter, tones, and smooths it. The manufacturer recommends that this cream works best along with diet and exercise.
Additional Benefits: It's free of parabens and other artificial ingredients, and it's cruelty-free. It has the scent of citrus.
Ingredients: Sodium Hyaluronate, Squalane, Soybean Oil, Caffeine, Shitake Mushroom Extract, Vitamin B5, Shea Butter, Super Blend of Botanical Extract
Price: $14
---
DERMAdoctor Shrinking Beauty Body Beautiful Lotion
The idea for this cellulite cream came from lobsters. That's why it has so many hydrating botanical ingredients which enrich and repair the skin. The product contains stimulants caffeine and theobromine, which improve body circulation and help burn fat cells. In addition to removing cellulite, this cream promises to burn fat.
Additional Benefits: The product is cruelty-free.
Ingredients: Artichoke Bud Extract, Decyl Glucoside, Levan, Bayberry Fruit, Glaucium Flavum Leaf, Jujuba Seed Extract, Caffeine, Theobromine
Price: $86
---
Ahava Body Firming Duo Kit Cellulite Control
This is a potent 2-step set system containing 2 cellulite creams, firming body cream, and a mineral body shaper. This product is incredibly rich in a variety of ingredients which tighten and firm the skin, repair skin damage, hydrate, and smooth. It also helps break down fat cells, which can help you slim down as well as eliminating cellulite.
Additional Benefits: This product contains minerals from the Dead Sea.
Ingredients: Grapefruit, Dead Sea Water, Aloe, Peppermint, Avocado Oil, Caffeine, Gingko Biloba, Shea Butter, Sugar Cane, Bilberry Leaf Extract, Vitamin E
Price: $65
---
Sisley Cellulinov Intensive Anti-Cellulite Body Care
This cellulite cream combines plant-based ingredients and oils into a formula which gets rid of cellulite and shapes your contours the way you want it to be. It makes the tissue firm, toned, moisturized, and smooths the surface of your skin. The manufacturer promises satisfactory results in only 4 weeks.
Additional Benefits: It's also a very useful massage cream.
Ingredients: Red Algae, Soy, Caffeine, Gingko Biloba, Indian Lotus, Shea Butter, Sunflower Oil, Rapeseed Oil, Longan Seed, Cedrol, Alkekengi Calyx
Price: $290
---
Dr. Brandt Skincare Cellusculpt
According to the manufacturer, clinical research demonstrates that this product hydrates and smooths the skin in 2 weeks, and firms, tones, and reduces cellulite within 4 weeks. This cellulite cream with caffeine breaks down fat cells under the skin, getting rid of the cellulite on your thighs, legs, and buttocks.
Additional Benefits: It has a ball applicator which makes using the product significantly easier.
Ingredients: Caffeine, Green Coffee Extract, Disilanol, Enzyme Complex, Geranium Oil, Orange Peel Oil, Vanilla Extract, Jasmine Flower Extract
Price: $59
---
StriVectin-TL Tightening Body Cream
The main purpose of this cellulite cream is to remove dryness of skin and moisturize deeply. It contains ingredients which make the skin firmer and more elastic, which can improve signs of age on the body like cellulite and wrinkled skin. The cream has potent anti-aging benefits because it's packed with collagen-stimulating peptides.
Additional Benefits: It boosts skin luminosity and brightens the skin.
Ingredients: Butter Blend, Turmeric Root Extract, Jojoba Seed Extract, Sunflower Extract, Kiwi Seed Oil, Caffeine, Aloe, Sodium Hyaluronate, Blackberry Seed Oil
Price: $59
---
Orlane Paris Aqua Svelte
This high-quality cellulite cream and the slimming product is rich in mineral salts, marine algae, essential oils, and caffeine. It breaks down the fat cells under the skin, getting rid of dimples and pockets and leaving the skin smooth. However, it's also an excellent exfoliator that can eliminate dead skin cells. This product is best used as a body scrub in the shower.
Additional Benefits: It detoxifies the skin. It can also help you tone down by reducing fat.
Ingredients: Microspheres, Caffeine, Marine Algae, Ginger Essential Oil
Price: $60
---
InstaNatural Crepe Firming Cream
This is a cream that removes both cellulite and wrinkled skin. It breaks down fat under the skin, getting rid of dimples and eliminates signs of aging. In addition, it removes dead skin cells and stimulates production of new ones. This formula balances skin tone and deeply hydrates the skin.
Additional Benefits: It gives the skin a radiant glow.
Ingredients: Hyaluronic Acid, Collagen, Shea Butter, Glycolic Acid, Salicylic Acid, Caffeine, Olive Fruit Oil
Price: $40
---
Finulite AM & PM Cellulite Cream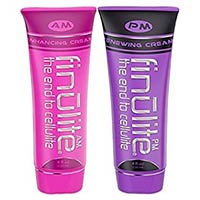 This is a set of two cellulite products, one for the morning and one for the nighttime. These creams work 24 hours a day to burn fat cells from under the skin, repair skin damage, hydrate, tone, and firm, and enhance circulation. This product can remove cellulite, stretch marks, and other signs of age like wrinkles.
Additional Benefits: It can eliminate toxins and excess fluids from the skin.
Ingredients: Beezwax, Coffee Seed Oil, Lemon Peel Extract, Carbomer, Bergamot Fruit Oil, Gotu Kola, Guarana, Butcher's Broom, Lavender, Rosemary Oil
Price: $99.90 for the set
---
Revision BodiFirm
This is an incredibly rich formula designed to eliminate cellulite and wrinkled skin. It's a very hydrating cream which can firm, lift, and tighten skin to smooth out lines and dimples. In addition, it can help prevent sun damage. This product promotes the overall health of the skin.
Additional Benefits: You can use it before and after aesthetic procedures to prevent scarring.
Ingredients: Peptides, Caffeine, Glucosamine, Goldenrod Extract, Ceramides, Citric Acid, Urea, Green Tea Leaf Extract, Pea Extract, Bamboo Leaf Extract
Price: $150
---
Where Can I Buy Cellulite Cream?
You can purchase cellulite cream both online and from retailers. There are many brands and wide price ranges, so have a look at several different products before you decide.
How Does Cellulite Cream Work?
Cellulite cream contains ingredients that eliminate fat under the skin. These products also contain antioxidants, which deal with free radicals and repair damage to the skin barrier. In addition, anti-inflammatory agents lessen swelling and redness on the skin.
Cellulite cream is very hydrating, and this moisture goes into the skin. This gives it plumpness, which can smooth out the appearance of cellulite and other signs of aging.
Does Cellulite Cream Burn upon application?
Cellulite cream should not cause burning sensation. If it does, it might be that you are having an allergic reaction to one of the ingredients. Therefore, stop using this product immediately and consult a dermatologist.
Is Cellulite Cream Safe During Pregnancy?
No, cellulite is not safe for pregnant women to use. It penetrates into the skin, and it contains some ingredients which could be harmful to the baby.
Does Cellulite Cream Really Work?
There is a number of different brands of cellulite creams on the market, and whether they are effective or not depends on the ingredients included. When you're choosing the brand, do some research and look up the substances it contains, to see how effective the product is likely to be.
FAQs
Does Cellulite Cream Burn Fat?
One of the goals of most cellulite creams is to break down the fat cells underneath the skin, thus targeting the root cause of cellulite. This depends specifically on the brand you use and the ingredients included, but most creams include things like caffeine which initiates fat cell breakdown to smooth the cellulite.
What is the Best Cellulite Cream?
There are numerous brands of the best cellulite cream, and some of them are quite good. We've provided you with 5 of the best cellulite creams, and selected Life's Butter as our own #1 choice as it's one of the best cellulite reducing creams. When examining products, look at the quality of the ingredients, the value for the money, look for the best cellulite cream for thighs, best cellulite cream for legs, consumer opinion, how reputable the manufacturer is, and the money back guarantee.
Is Cellulite Cream Safe During Pregnancy?
There are some potent cellulite creams with caffeine and cellulite creams with retinol which are not suitable for pregnant or breastfeeding women.
How Do I Use Cellulite Cream?
With most top cellulite creams, you take some onto your fingers and rub it over the areas you want to treat using a circular motion until it's completely absorbed. Some products suggest you use the cream twice a day, while other instruct one daily usage. You may be very impressed with the cellulite creams before and after.
Who Should Use Cellulite Cream?
The products are suitable for both men and women, although 90% of the time its women who develop cellulite. Anyone with cellulite in the form of dimples or pocket marks on their body can use these cellulite creams.
Conclusion
The market is full of luscious cellulite cream which can remove the signs of aging on your body. These products contain rich cellulite-busting ingredients like caffeine, aloe vera, and retinol.
Some of these substances break down fat cells under the skin. Others are high in antioxidants that repair damage to the skin barrier. In addition, hydrating ingredients give the skin volume and smooth out signs of aging like cellulite.
There are 16 quality creams that we've discussed in this article, therefore you have many options if you're looking for an anti-cellulite product. Choose the best cellulite cream, and watch the dimples practically melt off your body and reveal smooth skin.