I've spent a lot of time researching the qualities and properties of different panels, and I bought this one because I assessed that it was the best one available and that it met all my needs.
It's a full body device which comes with a therapy companion app that provides dosage and timing information. After a couple of months of using this panel, I'm in love with the benefits and I'm excited to describe them to you.
Image of PlatinumLED Therapy Lights
PlatinumLED Therapy BioMax 600 Review
The PlatinumLED Therapy BioMax 600 offers optimal red light therapy benefits and is the top panel available on the market. If you're looking for a top quality full-body red light therapy panel, this one is suitable for any adult. With approval from a medical professional it may also offer benefits for children and animals.
Summary
It's an FDA-approved and designated Class II medical device which is well-designed and incredibly safe to use regularly.
PlatinumLED Therapy BioMax 600 is a powerful panel which can treat medical conditions ranging from wounds to issues like arthritis or neuropathy.
It's very reasonably priced for the market and offers a 3-year warranty.
PlatinumLED Therapy Lights Brand
The manufacturer of this panel is Platinum LED Therapy Lights, which is a known leader in the industry with more than 10 years of experience producing top quality red and infrared light therapy devices.
Their line consists of the BioSeries range, with 4 different sized panels and 2 wavelengths – one red light and one infrared. There is also the more current BioMax Range which is an extensive upgrade that includes new features, modularity, and 5 wavelengths spanning from red to infrared.
Benefits and Features of PlatinumLED Therapy BioMax
As part of the new generation BioMax Range Series, this model has benefited from the extensive upgrade to include several new features and advantages:
This series offers extensive modularity. It allows you to build and extend the panel for a wider treatment area and broader capabilities.
There's a range of 5 wavelengths spanning from red light to infrared levels, including 630nm, 660nm, 810nm, 830nm, and 850nm allowing for a wide array of treatment benefits for various conditions.
The BioMax Range Series is safe and offers very low EMF levels, preventing possible damage and red light therapy side effects from the treatments.
These panels now include a digital control panel which allows you to select your wavelength and set the time of your session.
BioMax Range Series has powerful LED light capability which delves deep into the body to heal a number of health conditions.
These are Class II FDA approved medical devices with ETL/UL certification for electrical safety assurance.
The manufacturer offers a 60-day money back guarantee and a 3 year warranty.
PlatinumLED Therapy BioMax Range Series
This series consists of 4 different sized panels which offer a range of health benefits for users:
Image of PlatinumLED Therapy BioMax Range Series 300, 450, 600, 900
BioMax 300
– 19″ x 9″ (48cm x 23cm) with 100 x 3watt LEDs
This model is suitable for healing issues that are specific to a small treatment area, such as wounds or a pulled muscle. It's an excellent anti-aging skin treatment, especially if you use the table-top stand.
BioMax 450 – 9″ x 12″ (48cm x 30cm) with 150x 3watt LEDs
This is a moderate-sized board which can also help with specific areas that need treatment. It gives you room to treat skin issues, wounds, muscle pain, and other concerns.
BioMax 600 – 36″ x 9″ (91cm x 23cm) with 200 x 3watt LEDs
This model is a superior full body panel designed to treat a wide range of health issues and enhance overall wellness.
BioMax 900 – 36″ x 12″ (91cm x 30cm) with 300x 3watt LEDS
This is the largest panel available, made for users who want a very large treatment area.
BIOMAX 300
BIOMAX 450
BIOMAX 600
BIOMAX 900
LED Power Class
300w
450w
600w
900w
Dimensions
19" x 9" x 3"
19" x 12" x 3"
36" x 9" x 3"
36" x 12" x 3"
Power Consumption
157w
Amps @110v: 1.43A
Amps @220v: 0.71A
239w
Amps @110v: 2.17A
Amps @220v: 1.09A
315w
Amps @110v: 2.86A
Amps @220v: 1.43A
380w
Amps @110v: 3.45A
Amps @220v: 1.73A
Treatment Area
See Chart
See Chart
See Chart
See Chart
LEDs
100 x 3w
150 x 3w
200 x 3w
300 x 3w
Focusing Lens Beam Angle
90 Degree
90 Degree
90 Degree
90 Degree
Weight
11 lbs
17 lbs
22 lbs
33 lbs
Weight
3 Years
3 Years
3 Years
3 Years
Lifespan
100,000 hrs
100,000 hrs
100,000 hrs
100,000 hrs
EMF Emission
0.0 µT @ 4"
0.0 µT @ 4"
0.0 µT @ 4"
0.0 µT @ 4"
Best For
Targeted Treatment
Targeted Treatment
Full Body
Full Body
Now, let's specifically examine the PlatinumLED Therapy BioMax 600 and evaluate its benefits and capabilities.
The BIOMAX 600 Box contains the following components:
Power Link Cable – This connects the device to the outlet and gives it power.
Digital Link Cable – This cable allows you to power additional panels for greater modularity.
Mounting Hardware –The hardware which allows you to mount the device.
Panel Linking Hardware – This is equipment for linking panels to each other.
Door Hanging Kit – This kit allows you to hang the device on a door.
Sunglasses – These provide protection for your eyes during the treatment process.
Therapy Companion App – This app allows you to track your sessions in terms of timing and dosage.
Image of BIOMAX 600 Box components by Alex
Steup Procedure and Use for PlatinumLED Therapy BioMax 600
The instructions for the set up and usage of this panel are extremely straightforward and simple. You have the option to mount the device to the wall or to the door with a hook. There are metal cables for you to attach, and a pulley which allows you to adjust the panel.
Once your device is hung as you would like it, plug in the cable and set the control panel with the wavelength and the timing of your session. Stand in front of the panel at least 6 inches distance and enjoy your session, but you can vary the length you stand from the board.
Image of PlatinumLED Therapy BioMax 600
You also have the option of mounting additional panels for a greater treatment area. In order to do this, plug a power link cable into each panel. Then slide one panel into the other using the metal studs.
Personally, I am very poor at setting up equipment and technical devices, but I found the PlatinumLED Therapy BioMax 600 instructions incredibly easy to follow and frustration-free. This is one of the many benefits of this superior panel.
What are the Potential Health Benefits of the PlatinumLED Therapy BioMax 600?
Health Benefits of the Red Light Therapy
Red light therapy works by sending photons deep into the mitochondria, activating ATP (adenosine triphosphate) and powering all of the cells in the body.
A publication in the Journal of Clinical and Aesthetic Dermatology explored the powerful – ability of light emitting diodes in the treatment of a number of medical issues [1].
Some of the medical benefits of this process include:
Healing wounds, blemishes, and skin damage
Rejuvenating the cells and promoting new growth
Repairing muscle and tissue damage
Healing pain and inflammation
Improving mood and decreasing anxiety
Eliminating depression and PTSD
Helping to get rid of sleep disturbances and nightmares
Promoting hair growth and thickness
Enriching skin health and healing acne
Post-surgery recovery
Boosting brain health and cognitive functioning
Enhancing bone recovery
How Do the Features of the PlatinumLED Therapy BioMax 600 Hold Up?
In order to get into detail about my experience with the PlatinumLED Therapy BioMax 600, I'll review the best features of the product and go into how I felt about each in terms of my satisfaction with the device.
Image of Red Light Therapy
Wavelengths
While the previous series offered only two possible wavelengths, the BioMax Range including the PlatinumLED Therapy BioMax 600 has 5 different wavelengths which are 630nm, 660nm, 810nm, 830nm, and 850nm. The general benefits of each wavelength are as follows:
630nm – Anti-aging skin benefits, wound healing, hair regrowth, acne, skin cancer
660nm – Decreases inflammation, improves exercise endurance, reduces swelling, heals more advanced wounds, decreases neuropathic pain
810nm – Supports brain health, healing and recovery, hair regrowth, anxiety and depression, psychiatric issues, recovery after stroke or brain injury, healing of serous wounds
830nm – Speeds up muscle recovery, improves mood, promotes repair and growth of bone, accelerates recovery from surgery, offers faster healing and recovery from infection
850nm – Promotes oral health, heals skin wounds, improves muscle recovery
Image of PlatinumLED Panel Biomax 600 by Alex
The first two wavelengths are red light therapy and the last three fall into the category of infrared light therapy. There are no other models on the market which produce this level of irradiance spectrum.
A study in Lasers in Medical Science found that both 660 and 830nm wavelength were effective in easing skeletal muscle fatigue in humans [2].
There were a few health issues I was targeting with my treatments, so I found the choice of five wavelengths to be invaluable to my process. I use the lower levels to treat skin issues like acne and remove some of my fine lines.
For my brain health I use one of the higher wavelengths, and the 830nm wavelength is great for general relaxation and stress-busting. So far I am finding this device to be amazingly effective in healing my conditions, and it works very fast to do the job.
Of course it varies depending on the issue, but I can certainly say that I have noticed some benefits in all areas. My acne cleared up rapidly and I am enjoying a clear, younger-looking complexion.
It's important to note that 80% of the power comes from the standard wavelengths which are 660 and 850 nm, and only 20% comes from the other three. Although you are not getting the full dosage for the 3 alternate wavelengths, you are getting some and these levels are not even available from many other brands.
Personally I love the red light therapy before and after and the fact that I'm getting the benefits of all 5 wavelengths.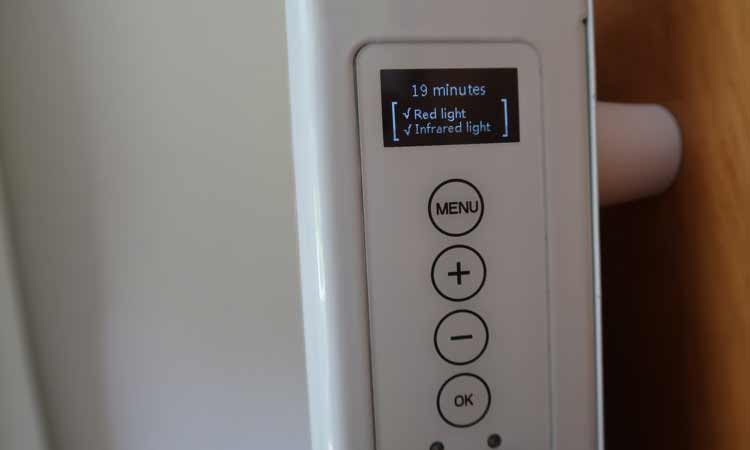 Image of PlatinumLED Panel Biomax 600 by Alex
Power
The manufacturer of PlatinumLED Therapy BioMax 600 claims that it's an extremely powerful device which has the highest amount of output of any other NIR/red therapy light. In addition they promise that it has twice the power of any other device on the market.
I have tested the power output myself with a meter and found it to be sky high, and more powerful than completing brands like Joovv. The claims of the company about their amazing output levels appears to be 100% true.
More power should mean better, stronger benefits, and for myself I can say that I definitely notice that the great surge coming out of this device has helped me rapidly.
Image of PlatinumLED Therapy BioMax 600 Power via Official Website
Modularity
The modularity of this product, and the series as a whole, is a brilliant way to allow you to clip panels to each other to make a wider treatment area. You can begin with one PlatinumLED Therapy BioMax 600 device and then add to it over time for greater expansion.
I actually didn't think I would use this feature as I was happy with my one panel. Then I decided to purchase a 300 and I absolutely loved what the added treatment area did for my sessions. Now I'm hooked and planning to purchase another model soon.
The manufacturer has bundled panels into configurations that they think are ideal. These include:
300 + 600
600 + 600
2 x 300 + 600
2 x 600 + 600
450 + 900
900 + 900
2 x 450 + 900
2 x 900 + 900
Mounting Capabilities
Personally I have trouble with any kind of setup, but the PlatinumLED Therapy BioMax 600 was incredibly easy to mount. You can hang it on the door or wall with a hook, and then attach the metal cables and lift them onto the hook.
If you like, you can attach the pulleys so you can modify the height of the device. Fortunately, it's just as easy to dismount, and I have moved mine several times to different locations inside the house.
Image of PlatinumLED Therapy BioMax 600 Mounting by Alex/Official Website
EMF Levels
A possible risk of some red laser therapy devices is that they may emit electromagnetic fields (EMF) which are potentially harmful to the body and to human health. According to a study in the Journal of Microscopy and Ultrastructure EMFs impact the antioxidant system and raise oxidative stress [3].
The BioSeries Range had EMF levels that were almost undetectable, making the panel extremely safe. With the upgrade to the new BioMax Range Series, the manufacturer promises that levels are at zero. This is lower than many other models on the market today, making the PlatinumLED Therapy BioMax 600 an extremely safe device.
Flicker Levels
Most LED light do emit some flicker, which is a change in the light intensity that occurs due to shifts in voltage. It does present some health risks, but not for the amount of time you'd be spending in a red light therapy device.
Flicker is emitted from every device we have, and that's much more of a concern than using your panel 20 or 30 minutes a day. According to manufacturer testing, flicker levels for PlatinumLED Therapy BioMax 600 are very low.
Warranty and Guarantee
Platinum LED certainly has a returns and warranty package that rivals many other brands on the market. If you're not happy with the panel, return it by 60 days from the order delivery date for a full refund.
In addition, they offer a 3-year warranty on all products including PlatinumLED Therapy BioMax 600 to fix or replace damaged boards. The manufacturer pays the shipping on all U.S purchases, but not for international users.
Price and Purchasing Options
You can get PlatinumLED Therapy BioMax 600 on the official website for $899 as a one-time purchase. You also have options for paying in installments if the price is too high for you to afford at once.
By and large, this is quite an average price for the market and for the quality of the panel it really is worth every penny. For me, this was the best investment I made in years.
Customer Support
PlatinumLED has an excellent support team with a reputation for being helpful and courteous. You can get in touch with them via their Contact Us page or by phone. According to past customers, the team at PlatinumLED are significantly more professional than at many other companies and are a pleasure to deal with.
Does It Work?
Have a look through the Platinum LED BioMax Products review posts and you'll see how users are raving about these models. Customers have talked about reductions in pain and inflammation, more energy, improved cognitive health, and relaxed muscles.
In terms of my own personal experience, after just a few weeks of use I am already experiencing amazing health benefits and feeling better than I have in years. Here's a brief summary of some of the improvements I have noticed so far:
Clearer skin and reduced acne
Less fine lines in my face and around my eyes
A decrease in stress and anxiety and a generally better mood
Wounds and muscle strains have healed quickly
Sharper thinking, better memory, and enhanced focus
More physical energy
Image of Red Light Therapy for Relaxed Muscles
How Does PlatinumLED Therapy BioMax Compare to Other BioMax Products and Different Brands on the Market?
I've delved deep into exploring other similar brands and what they have to offer, to find that PlatinumLED Therapy BioMax is superior in many ways. While this line offers 5 powerful wavelengths, competitors like Joovv only offer two.
These panels are more powerful than other brands on the market according to my research. While many brands only offer very low EMF levels, this one has them at zero. In terms of price, the cost of these panels is about average for the market. I can say that I certainly found mine to be worth the price.
Should You Buy PlatinumLED Therapy BioMax 600?
The PlatinumLED Therapy BioMax 600 has some amazing advantages over other similar brands on the market. I personally have experienced the incredible power of the device and the amazing health benefits it has to offer, and I think it's the best red light therapy product out there.
A study in the Journal of Lasers in Medical Sciences showed the efficacy of low-level laser therapy. They also indicated that it has few disadvantages and no red light therapy side effects [4].
The panel is incredibly easy to use and to set up and is one of the safest devices around with EMF levels of zero. For me, the benefits I got were more than worth the fairly average price of the panel, so I'd say, yes, you should buy the PlatinumLED Therapy BioMax 600 panel.
In fact, any of the 4 devices in the new generation PlatinumLED Therapy BioMax line have amazing benefits to offer, it just depends on the size and price that suits you.
Final Thoughts
My final notes on the PlatinumLED Therapy BioMax 600 are to stress that am getting a lot out of this product health wise and I would recommend it to almost anyone. It's safe, and research shows the red light therapy benefits in many areas. Have a look at some of the rave red light therapy reviews for this device to get an idea of what customers had to say.
The is a Class II FDA approved medical device with ETL/UL certification for electrical safety assurance. Consider purchasing this panel, or one of the other panels in the line, and then mounting others over time for a huge treatment area.
I'd be very surprised if red light therapy treatments with this panel didn't change your life completely, enhancing both physical and mental health.
In addition, Platinum LED is a highly reputable company known for producing too-levels red light therapy panels.
Where to Buy Red Light Therapy?
Use Coupon Extra5 & Get 5% OFF on Official Website
READ NEXT – Everything You Have Ever Wanted to Know About Red Light Therapy