What is Vollure?
Vollure is a breast enhancement cream that promises to help increase bust size. This product may be of help to those seeking to safely boost their shape and bust appearance. For this reason, the use of this cream may lead to firmer and noticeably bigger breasts.
Those with small cup size breasts, under this cream, can get a bigger cup size after a few weeks of use. In precise, in two months or within 60 days users can expect an 8.4% increase in breast size, according to its producer.
FAST FACTS
VOLLURE BUST LIFT CREAM
USES: This product may be of help to those seeking to safely boost their shape and bust appearance.
ACTIVE INGREDIENTS: Polysorbate 20, Cellulose Gum, Carthamus Tinctorius Seed Oil, Glycerin
PRICE: $69.95
Advertisement
*All individuals are unique. Your results can and will vary.
ABOUT THE BRAND: Vollure is formulation offered by a reputed company, Bauer Nutrition.
Is Vollure Any Good?
Compared to other invasive methods of breast enhancement, this cream offers a practicality safer option. Ideally, it does not expose users to surgery-related risks that are often tied to ordinary breast augmentation procedures. Vollure offers a painless solution to women who wish to increase their bust size. Also, the cream is way cheaper compared to what augmentation surgeries would cost. The product claims to be 100% formulated from natural ingredients, and this is what makes it free from side effects.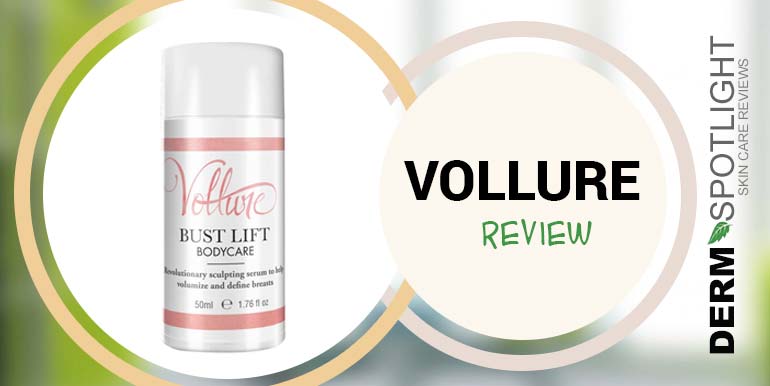 Vollure Breast Enhancement Cream Review. Image/Dermspotlight
What are the Ingredients in Vollure?
Polysorbate 20 – Polysorbate is a medical-grade ingredient and has been used in chemotherapy and health care support settings. It found its way into the cosmetics world due to its solubilization and emulsification properties, which in this case may support the growth of breast tissues. A study focused on Polysorbate 80 in Advances in Therapy agrees that this surfactant ingredient may be used in food, drug, and cosmetic products.
Cellulose Gum – This ingredient is water-soluble and that it is derived from a cellulose-rich component, according to the Journal of Materials Science, Material in Medicine. As a cosmetic polymer, it supposedly improves the absorption of water into tissues. This may mean it helps the dilapidated tissues of the body regain their volume by helping them hold water.
Carthamus Tinctorius Seed Oil – Safflower oil is a common beauty component as it is a rich source of fatty acids. In this case, it supports bigger breasts indirectly, in that it improves the absorption of key health nutrients including vitamins A, K, D, and E. It is also a rich source of phytoestrogens, which according to Food and Chemical Toxicology may help boost breasts as well as tighten skin to keep wrinkles away.
Glycerin – In most cases, this particular ingredient has been known for its skincare support benefits. It helps keep the skin young by avoiding dryness. Now, a study in Plastic and Reconstructive Surgery suggests that glycerin is a pivotal component in helping to maintain breast implant filler materials.
Advertisement
*All individuals are unique. Your results can and will vary.
How Does Vollure Breast Enlargement Cream Work?
Vollure as a cream exclusively relies on its ingredients. That is, the formula is rich with components that encourage fuller breasts. Besides, the cream helps tighten breast tissues to improve firmness. It helps refresh cells and restore them to their youthful state. With continuous use, the cream might help lift saggy breasts. In the long run, the notion is that you will end up with an attractive body shape, which may help boost your confidence.
Vollure Breast Enlargement Cream Pros & Cons
Benefits
It may help increase breast volume
Might increase breast firmness
Claimed to use only safe and natural ingredients
The cream may notably boost breast size within 60 days
What are the Disadvantages of Vollure Breast Cream?
Drawbacks
Continuous use of the product is needed to maintain the results
It is only available online currently
Vollure Reviews
Most people who've used Vollure have this in common, they had extra-small breasts. This may mean people who are likely to notice changes fast are those with a small bust. According to the few vollure reviews available online, is that this product may help. What stands out in the comments of the alleged users is that they noticed an increase in breast fullness and that they are hopeful this product will improve their size over time. Besides, the idea that this product eliminates the risks that accompany other breast enhancement solutions, is what most users applaud it for.
People Also Ask
Q: How to Apply Vollure Bust Lift Cream?
A: The way this product should be used is straightforward but it is highly recommended that you apply it on clean skin, preferably after you have taken a shower. The cream can be used twice per day and the full details on the direction of use are on the label. In precise, pump at most 3 drops of Vollure on your hand and gently massage it on your breasts in a circular motion. Continue until the cream is well absorbed, then you incorporate your other daily skincare routine.
Q: How Much is Vollure Bust Lift Cream?
A: A 50ml or 1.76 oz bottle of Vollure retails for $69.95. If your order two bottles you are given one free as a discount.
Q: Is Vollure Breast Cream Legit?
A: With Vollure's official website in place and accessible publicly, it is safe to conclude that this product is legit. Besides, the company uses various channels to market it, which if otherwise may not allow a product that is not legal to use their platform. In addition, the key ingredients in this product have been shared publicly, which suggests the producer values transparency and might be genuine.
Q: Does Vollure Breast Enhancement Cream Offer Trial Sample?
A: Going by the available information on the websites that sell vollure, there is no free trial sample for this breast enhancing cream.
Q: Where Can I Buy Vollure Breast Cream?
A: The cream is available online. You can get it from the manufacture's website or other beauty and health care supplement merchants that stock it. However, if unsure whether the product ships to your precise location, you can simply contact the customer care team using the contacts provided.
Q: Does Vollure Have a Return Policy?
A: Vollure is sold with a 60-day money-back guarantee. As such, if at some point you conclude this cream won't deliver what you want, you may claim your funds back. However, it is always advisable to check the terms included in any return policy to understand how it works.
Conclusion
Although, Bauer Nutrition USA Vollure focuses most on improving a woman's bust appearance, in the overview it is a body shape enhancing product. That is besides helping you achieve bigger breasts it helps the skin appear fuller and refreshed, as explained by the producer.
Ordinarily, surgical processes and other invasive options happen to be the go-to option when one needs to improve bust size. Now, owing to the potential risks that may strike with these conventional solutions, it appears that this cream brings to the table a much safer option that is worth trying.
Advertisement
*All individuals are unique. Your results can and will vary.
Ideally, the ingredients in Vollure offer breast enhancing benefits that can be delivered across the skin, into breast tissues through simple massaging with the cream.
Besides, the cream promises not to interfere with one's lifestyle, unlike with surgery where patients have to wait for a certain period to heal after the procedure.