Overview of Retinol Creams
Retinol Creams are approved products designed to help people get rid of skin blemishes such as acne, wrinkles, fine lines, age spots, and hyperpigmentation. They also work to boost collagen production, even the skin tone, prevent clogging of pores, and improve other skincare product absorption.
The best retinol cream helps reduces wrinkles and fine lines and improves skin texture. Image/Dermspotlight
Retinol skin care products come with different strengths or concentrations. So, dermatologists recommend that if you are a first-time user, you start with the one with low concentration to see how the skin will react to the product. If it does not irritate your skin, you can opt for a product with a higher concentration.
Best Retinol Creams
How to Apply Retinol on Your Skin
Retinol creams are applied on clean skin. So, before you begin the application, first clean your face. Once you are done, apply eye cream. It is meant to protect the delicate skin in the eye area.
After this application, wait until your face dries up before applying retinol cream. This is because when you apply it on a damp face, it will prevent its proper absorption.
Dermatologists recommend that you start by applying retinol cream with a low concentration or strength (1% or 0.3%) to test your skin's reaction to the product before you can move to retinol cream with high strength.
You should then finish by applying moisturizer followed by broad-spectrum sunscreen. This is important because retinol makes the skin a bit sensitive when exposed to the sun.
Our Top 10 Retinol Creams
Dermspotlight's picks for the best retinol creams:
---
PCA SKIN Intensive Anti Aging Face Serum – 0.5% Pure Vitamin A Retinol Cream
PCA SKIN Intensive Anti-aging face serum is developed with stable retinol and works to rejuvenate, moisturize, and repair young skin. The serum has got a unique formula that works to ensure that you achieve a reversed-aging effect.
This intensive anti-aging face serum is also free of parabens. So, you don't have to worry about the side effects. The serum will leave your face smooth with a radiant appearance.
The Reviewers Say:
Watch out for the reviews of this product after the launch.
Key Facts
Container Type: Tube | Skin Type: For All Skin Types | Size: 1 fl oz (29.6 ml) | Form: Serum | Brand: PCA SKIN
---
Osmotics R+R Longevity Serum, Retinol Cream for Face – Anti Aging Cream
This moisturizing formula is made using a combination of Renovage-Retinol such as deep wrinkles, fine lines, pore size, and skin texture. The product features incredible ingredients like green tea, shea butter, hyaluronic acid, vitamin E, and jojoba oil. These rich ingredients work together to ensure that you achieve a soft plump and smooth facial appearance. The unique moisturizing formula makes this product ideal for people with hydrated or dry skin.
Key Facts
Container Type: Pump Bottle | Skin Type: For All Skin Types | Size: fl oz ( ml) | Form: Serum | Brand: Osmotics Cosmeceuticals
---
Clark's Botanicals Retinol Rescue Overnight Cream: Time-Release Retinol Cream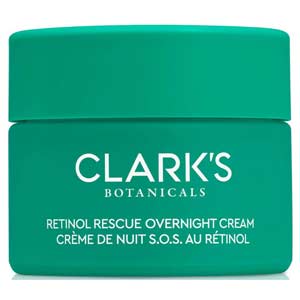 Clarke's Botanical Retinol Cream is a gentle nourishing serum enriched with ingredients like jasmine, vitamin E, red clover top extracts, and high-potency retinol. It is a soothing serum that offers a variety of benefits to almost all types of skins. The cream also helps fight redness and free radical damages as it smoothens wrinkles and fine lines to give you a youthful appearance.
Key Facts
Container Type: Jar | Skin Type: Dry | Size: 1.7 fl oz (50 ml) | Form: Cream | Brand: Clark's Botanicals
---
Kate Somerville +Retinol Vitamin C Moisturizer
Kate Somerville retinol is a cream designed to firm smooth and brighten the skin overnight. It is formulated using super ingredients like retinol and vitamin C. The combination of these two powerful elements form this infused moisturizer that when applied to the skin, visibly hydrates smoothens, and brightens the facial skin, giving it a refreshed feeling, and a smooth and radiant appearance.
Key Facts
Container Type: Jar | Skin Type: For All Skin Types | Size: 1.7 fl oz (50 ml) | Form: Cream | Brand: Kate Somerville
---
Naturopathica Argan & Wrinkle Repair Retinol Night Cream
Naturopathic argan & retinol wrinkle repair night cream is non-irritating night facial cream featuring advanced retinol and rejuvenating argan. These two prime ingredients work to smooth and firm the skin.
This age-defying nighttime moisturizer is a powerful combination of peptides, matrixyl, and a unique Tri-Retinol blend. The three ingredients are said to build on each other to tighten ad renew the skin, and also reduce visible signs of aging such as wrinkles, fine lines, dark spots, and hyperpigmentation.
Key Facts
Container Type: Jar | Skin Type: Mature | Size: 1.7 fl oz (50 ml) | Form: Cream | Brand: Naturopathica
---
Trish McEvoy Beauty Booster® Retinol Eye Cream
Trish McEvoy Retinol Eye Cream is an advanced eye cream packed with resveratrol, retinol, and hyaluronic acid. These powerful ingredients work together to repair damages and reduce aging symptoms like wrinkles and fine limes. It also helps to firm loose skin, smoothen the skin texture and restore its radiance appearance.
Key Facts
Container Type: Pump Bottle | Skin Type: For All Skin Types | Size: 0.5 fl oz (15 ml) | Form: Cream | Brand: Trish McEvoy
---
Dermalogica Overnight Retinol Repair
Dermalogica overnight retinol repair is a concentrated and customized retinol treatment designed to help with accelerated skin renewal and reduction of skin aging appearance. This serum is best applied at night if you want optimal results. When applied to clean skin at night, it will work effectively to minimize the signs of aging and also stimulate cell turnover.
Key Facts
Container Type: Tube | Skin Type: For All Skin Types | Size: 1 fl oz (30 ml) | Form: Cream | Brand: Dermalogica
---
Sunday Riley A+ High-Dose Retinoid Serum
Sunday Riley A + High-Dose Retinoid Serum is a pro-strength formula containing 5%, 1% liposomal-encapsulated retinol, and 0.5% blue-green algae retinoid. So, if you are a first-timer or not a regular user of retinol serums, then this product is not for you. You can only use it if you have been faithfully using a retinol cream with a lower concentration for some weeks. Nonetheless, it is an incredible serum that will give you noticeable results within a short time of use.
Key Facts
Container Type: Pump Bottle | Skin Type: Normal, Dry, Combination, and Oily | Size: 0.5 fl oz (15 ml) | Form: Cream | Brand: Sunday Riley
---
Shani Darden Skin Care Retinol Reform
Shani Darden skincare Retinol Reform is an effective mild anti-aging cream known for its ability to reduce the appearance of skin aging symptoms such as uneven skin tone, wrinkles, and fine lines. This lactic acid and favorite serum absorb first but with a slow release to maximize results and minimize irritation. Shani Darden skincare retinol will leave your skin smooth and radiant with a youthful feeling.
Key Facts
Container Type: Pump Bottle | Skin Type: Dry | Size: 1 fl oz (30 ml) | Form: Cream | Brand: SHANI DARDEN
---
NEOCUTIS Nouvelle Plus Retinol Correction Cream
NEOCUTIS Nouvelle Plus Retinol Correction Cream is a product developed to address a number of skin blemishes such as dark spots, wrinkles, and fine lines. It also helps with skin exfoliation. Once you begin using the special retinol cream, it will work to restore your radiant youthful-looking skin by reverting the existing damages caused by impurities from the environment.
Key Facts
Container Type: Pump Bottle | Features: Puffiness | Skin Type: For All Skin Types | Size: 1 fl oz (30 ml) | Form: Cream | Brand: NEOCUTIS
---
Phyris Triple a Retinol Cream
Phyris Triple Retinol cream is a retinol serum designed to help you experience the best results regardless of your age. It is a product with high retinol concentration, making it ideal for stressed and dehydrated skin. The formula is good if you are looking for a retinol cream that can give your skin a smooth and silky appearance.
Key Facts
Container Type: Tube | Skin Type: For All Skin Types | Size: 0.5 fl oz (15 ml) | Form: Cream | Brand: Phyris
---
Decree Treat Tincture
This top-selling gold standard serum features youth-enhancing actives and hydration to enable you to achieve unmatched skincare results. Consistent use of this retinol cream will help smooth away wrinkles and fine lines by absorbing fast into your skin and also improve skin firmness and elasticity.
Key Facts
Container Type: Pump Bottle | Skin Type: For All Skin Types | Size: 1 fl oz (30 ml) | Form: Cream | Brand: Decree
---
What Ingredients Do Best Retinol Creams Feature?
Retinol
Retinol is a key substance in retinol creams because of the variety of benefits it has on the skin. The ingredient contains properties that can improve mature skin. It also helps to brighten the skin by getting rid of hyperpigmentation and also reducing signs of photo-aging such as wrinkles, dark spots, and fine lines. It also works to improve skin elasticity.
According to Skin Pharmacol Physiol, retinol can help influence the keratinization process of the epidermis, which reduces skin water loss. It has also been found to improve skin structure and texture.
Ceramides
Ceramide is another key ingredient in retinol serum. It has been found to help with the formation of permeable barriers in the skin. It also prevents the skin from losing excess water and harmful substances to the environment invading the skin. Its main role is to ensure that the skin doesn't lose water in order to avoid dehydration.
According to a study in Cells, a study was carried out on the effect of ceramides application on the skin. Results revealed that ceramides are a crucial ingredient that plays diverse physiological roles.
Hyaluronic Acid
Hyaluronic acid popularly referred to as HA is a powerful ingredient used to formulate retinol creams. HA is naturally present in joints as well as connective tissues and one of its major roles is to hydrate the skin.
However, the body usually produces less HA as one advances in age, leading to the formation of fine lines and excess skin dryness. So, when you apply serums containing HA, they work to revert these kinds of aging signs.
According to the International Journal of Biological Mavromol, HA function in the skin was carried out the results reveal that it does play a crucial role when it comes to the regulation of different biological processes like skin repair.
Peptides
The peptide is a potent compound ingredient in the cosmetic industry. It is used to formulate beauty products such as skin and hair care products. It is, therefore, one of the key ingredients in Retinol creams because of its ability to fight skin blemishes like age spots, wrinkles, hyperpigmentation, and fine lines. It also supports skin hydration and enhances skin tone too.
A study conducted in the International Journal of Molecular Science has shown that topical application of peptides offers anti-wrinkle benefits. It can help fade away fine lines and wrinkles.
How to Choose the Best Retinol Cream
Your skin type should be the one to guide you on which type of retinol to buy. So, if you are sure about your skin type, you need to pay a visit to a skin specialist to help you with this. It is important because skins are different and while some will do well with a retinol cream with high concentration others like highly sensitive skin will react. So, knowing your skin type will help you know the kind the concentration to settle on.
Dermatologists recommend that you first start with cream with low concentration before you can move up. For those with thin and dry skin specialists recommend the retinol cream with low concentration.
When to Apply a Retinol Cream?
Retinol cream is better applied at night for the formula to work as you sleep. It is even safe because, at night, you don't have to worry about exposing your skin with retinol to the sun's rays.
However, if you decided to apply it during the daytime, always follow it up with sunscreen containing at least SPF 30 every day. This is because retinol makes the skin to be more sensitive to the sun's rays. So, if you don't offer protection to your skin as recommended, retinol night cream will for sure harm your skin.
What to Look for in Retinol Creams?
Brand
Brand is key when selecting the best retinol cream. Since we have many scammers in the market, you should only buy retinol from a reputable brand. Remember to check the brand's logo on the package to be sure what you are buying is authentic.
Packaging
Packaging is also important to consider when buying retinol cream. Vitamin A is usually not stable and can, therefore, easily break down when it is exposed to air or sun. You need to look for a brand that packages its retinol serum in a tightly sealed tube. If it is a jar, you should choose one that is packed in a dark container. That way you will be sure that you are getting a product that is safe and in good used condition.
The Key Ingredients
A good retinol cream should have ingredients like, hyaluronic acid, retinol, peptide, shea butter, ceramides, and glycerine. The reason why you should consider buying a serum with these ingredients is that retinol has a drying effect on the skin. So, since most of those ingredients are strong moisturizers, they will help boost skin moisture and also minimize dryness and irritation.
Concentration
If it is your first time using a retinol cream, choose one with low concentration or strength. This way, you will be able to minimize skin irritation. Once your skin gets used to retinol with low concentration, you can gradually increase the concentration percentage.
Claims
Claims from customers or previous users will help you to know which product is efficient and which one you should avoid. You will also get to know if there are complaints Claims will generally help you make an informed purchase decision.
Extra Benefits
If you a brand with a product with additional benefits, it will save you from purchasing multiple products. It means that you will only need to buy one product. In other words, you get to save some good cash, and at the same time, your skin benefits in many ways.
Who Should Use Retinol Creams?
Retinol can be used by individuals who wish to get rid of signs of aging such as wrinkles, fine lines, pigmentation, and scarring. Those individuals in their early 30s or early 20s, who want to prevent the early signs of aging can also use retinol serums.
What Do Retinol Creams Have in Common?
Retinol creams contain the following key ingredients: hyaluronic acid, ceramides, retinol, peptides, and glycerin. They also absorb quickly when you apply them to the skin. They all work to reduce symptoms of aging such as wrinkles fine lines, dehydration, dryness, hyperpigmentation, and loose skin. The retinol creams also repair skin damage and help users reverse aging effects.
Frequently Asked Questions
Q: Are Retinol Creams Safe?
A:
Yes, retinol creams are safe if used are recommended and applied correctly. Though they have been associated with various side effects, the reality remains that retinol used to formulate their
face serums
was thoroughly researched and passed through several clinical tests. So, it is an established credible ingredient in the medical world.
Q: Do Retinol Creams Have Side Effects?
A: Yes, when you start using retinol, you will experience some side effects and they are common for fort time retinol serum users. The effects may seem unpleasant, but when using products with retinol, things usually get that bad before they get better. These are common symptoms that are able for users to manage until that point when the skin gets used to the product.
Q: At Which Age Should You Start Using a Retinol Cream?
A: Retinol creams are right for any age because there are no reported cases of adverse side effects of youths or children using retinol. Teens or youths usually suffer self teem when acne starts developing on their faces. With the right retinol and a good skincare routine, they can easily eliminate acne and regain their confidence. So, the earlier you start using retinol serum the better because it will help you prevent skin blemishes at the right time.
What is the Average Cost of the Best Retinol Creams?
A: The prices of retinol creams may vary depending on the brand. However, after our intensive online research on the cost of the best retinol creams, we found out that they sell at an average is $100.00 per pack.
Q: Who Is Retinol Creams Not For?
A:
Retinol creams are not for people with hypersensitive skin, high allergy reactions, or who have a high tolerance to food. For instance, a person with a highly
sensitive skin
condition like rosacea, cannot tolerate strong topicals like retinol. So, before using any retinol cream, ensure that you first talk to your dermatologist or skin care specialist before adding retinol serum to your skin care regimen.
Q: Are Retinol Creams Meant Only for Face Use?
A: Most of the skin concerns that retinol creams are supposed to address, mostly appear on the face skin. Things like wrinkles, fine lines, dark spots, loose skin, and uneven skin tone are always visible on the face skin. That is why most retinol creams are meant to be applied on the face skin.
Q: How Long Should You Wait for Results After Using Retinol?
A: Like any other skin care product, retinol will work if you are consistent in using it. Also, retinol creams don't usually give instant or quick results. This means you need to exercise some patience as you continue using the serum. According to dermatologists, you will start seeing improvement or textural changes on your face after about two or four months. As you continue using the product, results become even more visible.
Q: When Did People Begin Using Retinol?
A:
People started using retinol in the 1970s after its approval. It first made its way into the market as an
acne treatment
drug. Since then, people have been using it to treat and manage other skin concerns.
Conclusion
Retinol can be ideal for use on almost all types of skin, but there is no brand that can claim one-size-fits-all. This is because retinol is difficult to manage, especially for those with highly sensitive or easily irritated skin. So, when selecting a brand be sure to choose one that will adequately address your skin concerns without causing harm.
We have tried our best to review some of the best retinol creams in the beauty industry and we hope it will make the selection of your ideal product much easier. That unlike before, you will find it easy to find the right retinol serum that will match your skin type and needs.