What is DermaWand?
DermaWand is a dermatology brand which offers 2 microcurrent wands for skin health, rejuvenation, and anti-aging benefits. As an accompaniment, they also have 3 skin care products which could hydrate and boost the anti-wrinkle and cell rejuvenation properties of the wands.
These product may offer great skin benefits, but usually professionals in spas and clinics perform this type of microcurrent treatment because it involves high energy radio frequency technology. There were users in the DermaWand reviews who found it useful as a home treatment, while others less so.
DermaWand Review. Image/Dermspotlight
Fast Facts
DermaWand
| | |
| --- | --- |
| Best For: | Reducing Wrinkles and Fine Lines |
| Uses: | Anti-Aging, Skin Revitalization, Repairs, Reduces Inflammation, Tightens Sagging Skin, Improves Circulation, Shrinks Pores, Decreases Under-Eye Puffiness |
| Active Ingredients in Skin Care: | Sesame Oil, Lanolin, Glycerin, Hyaluronic Acid, Palm Oil, Olive Fruit, Japanese Bamboo, Aloe Vera, Chamomile |
| Prices: | $17.99-$239.99 |
| About the Brand: | Brand Street Market, LLC, consumer goods organization that owns a number of brands/trademarks, like DermaWand. Located in Oldwick, New Jersey |
Pros and Cons of DermaWand
Pros
The devices and skin care may decrease wrinkles and lines.
It could lessen puffiness under the eyes.
The devices might improve circulation in the skin for improved health.
The products may help shrink the pores.
The skin care line could provide rich hydration and eliminate dryness
Cons
They don't provide a complete ingredient list for the skin care products.
The line has a very limited number of products.
There is a risk of burns or other injury using this device at home.
Highlighted Products
DermaWand Anti-Aging Device
Uses: Anti Aging, Tightens Skin, Decreases Puffiness, Repairs Damage, Lowers Inflammation, Shrinks Pores, Improves Texture, Boosts Circulation
Advertisement
*All individuals are unique. Your results can and will vary.
Best For: Removing Wrinkles and Fine Lines
Price: $129.99
---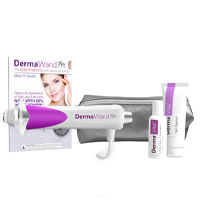 DermaWand Pro Anti-Aging Device (50% Stronger)
Uses: Anti Aging, Tightens Skin, Decreases Puffiness, Repairs Damage, Decreases Inflammation, Shrinks Pores, Improves Texture, Boosts Circulation, Tones, Lifts Eyebrows
Best For: Removing Wrinkles and Fine Lines, Skin Rejuvenation
Price: $239.99
---
DermaVital® Hydra Infusion
Uses: Moisturizes, Eliminates Dryness, Repairs, Reduces Inflammation, Protects
Advertisement
*All individuals are unique. Your results can and will vary.
Best For: Hydration
Price: $39.99
Ingredients: Sesame Oil, Glycerin, Lanolin
---
DermaVital Pre-Face
Uses: Hydrates, Sooths, Reduces Inflammation, Repairs, Enhances Overall Skin Health
Best For: Optimizing Skin For the DermaWand
Price: $17.99
Ingredients: Chamomile, Aloe
---
How Does DermaWand Work?
The devices use the power of radio frequency technology to eliminate existing collagen to stimulate new, fresh levels. This may tighten the skin, smoothing wrinkles, fine lines, blemishes, wounds, and other markings on the complexion.
A study in Life Science Journal concluded that microcurrent was successful at removing wrinkles and lines, with a 70% satisfaction rate [1]. The wands also improve circulation and promote added oxygen delivery to the cells.
The 3 skin care products that accompany this technique further boost collagen for added firmness, improved elasticity, and a younger-looking complexion. They also hydrate, moisturizing and eliminating dryness.
Advertisement
*All individuals are unique. Your results can and will vary.
The liquid get under the skin, plumping and further smoothing signs of age. The formulas contain anti-inflammatory agents which may lessen additional swelling and redness as well as help treat skin conditions.
They are also high in antioxidants, which could abolish free radicals on the complexion and lower oxidative stress. This may improve skin immunity, promote repair, and protect from UV rays and other environmental agents.
An article published in Frontiers in Pharmacology discussed the numerous mechanisms by which antioxidants protect the complexion from sun damage [2].
DermaWand has antioxidants, which work to abolish any free radicals on the skin and decrease oxidative stress. This helps repair damage to the skin barrier, and protect from UV rays and pollutants.
What Are the Ingredients?
These are some of the primary active ingredients in the skin care products:
Hyaluronic Acid
This molecule is a natural component of the skin, eyes, and connective tissue. Its referred to as a glycosaminoglycan or humectant, which draws huge amount of liquid and serves as an effective skin moisturizer.
It also plumps the skin, helping to smooth out fine lines and wrinkles. A study in Dermatology and Therapy concluded that a topical hyaluronic acid serum provided hydration and other skin health benefits [3].
Chamomile
This anti-inflammatory-rich flower may soothe the skin, reduce redness and swelling, as well as help to heal skin conditions, acne, and wounds. In addition, it may decrease hyperpigmentation and brown spots and brighten the complexion.
It's also rich in antioxidants which repair skin damage and protect from UV rays and other harmful agents. A article in Science Direct mentioned the calming and soothing benefits of chamomile and its potential to treat skin conditions like dermatitis [4].
Aloe Vera
This substance from leaves of the aloe vera plant is very hydrating to the skin, moisturizing and eliminating dry patches. It could decrease swelling and redness, and there's evidence that it may treat wounds [5].
It contains antioxidants which help repair and protect from UV rays and other damage. A review in the Journal of Pre-Clinical and Clinical Research discussed the clinical effectiveness of aloe vera, mentioning its antifungal, antibacterial, antiviral, anti-inflammatory benefits [6].
How to Use DermaWand?
There are DermaWand instructions included with the product, and each skin care item has its own directions on the label. Make sure you read through and understand all the information before using any of the products.
What is the Refund Policy?
The manufacturer has a 30-day money back guarantee on all of their products, as long as you bought them on the official website. If you're not happy with your purchase, call customer service at 1-800-390-9584 for instructions and send the items back within 30 days. You should get a full refund, excepting the return shipping costs.
People Also Ask
Q: How Much Does it Cost?
A: You can buy this brand from the official site, and from other online and offline retailers such as Amazon, Walmart, eBay, and others.
While there is no specific DermaWand discount code on the official site, they have a labor day sale now for a discount and free shipping applied at checkout. The prices are as follows:
DermaWand Anti-Aging Device – $129.99
DermaWand Pro Anti-Aging Device – $239.99
DermaVital® Hydra Infusion – $39.99
DermaVital Pre-Face – $17.99
DermaVital 1.7 oz. Skin Quench – $26.99
Q: Does DermaWand Work?
A
: There's evidence to indicate that the microcurrent technology is effective at providing anti-aging benefits, as indicated in this review already
[1]
.
The skin care products seem to include quality ingredients, but we do not have the complete lists. The reviews for DermaWand varied in their opinions of the brand.
Q: What Sets this Brand Apart From the Competition?
A: It's not overly different from other brands that offer microcurrent skin care products, but not every company also has accompanying skin care products, so that's a nice extra.
Q: Does It Have Side Effects?
A
: The manufacturer lists some of the ingredients in each product but they do not provide a complete list, so there's no way to know if there are additives or specific allergens. If the products cause a skin reaction, stop using them immediately and see a dermatologist if necessary.
As far as the devices, there is a chance you could burn yourself if you don't follow the directions carefully. Make sure to exercise caution when using the wands.
What Do the DermaWand Reviews Say?
The customer feedback varied, but the DermaWand Pro reviews were much better than for the original. More customers spoke positively about the benefits and their experience with the device and skin care in general.
However, there were also users who didn't get the before and after results from DermaWand that they expected. Some people said the brand wasn't worth the money. Here are a few of the customer comments:
Slight Difference

Notice slight difference between eyes and lift of eyes. Probably would not recommend item for the price you pay. – Cathy
Not the Best

I honestly have not been using this product. It was too much of a hassle to put the cream on my face every night and after trying it for two weeks I couldn't see an obvious difference!! – Angela
I Have Been Using The DermaWand For…20 Years And I ❤️It!

I have been using the Derma Wand for years! The trick is you have to use on a daily basis. I have a regime with it every day for three minutes, if not a little bit longer, on level nine. My skin looks very clean, clear, and tight.

I also noticed as a 50+ woman that if I have any kind of age spots or growths on my face, I hold the device on it for 30 seconds a day. It definitely shrinks skin disorders and makes them almost nil. – Jeri Z
How Does It Compare with Other Brands?
| Product | Price | Active Ingredients | Return Policy | Information |
| --- | --- | --- | --- | --- |
| Neutrogena Microdermabrasion System | $21.49 | Cell Turnover, Exfoliation, Skin Repair, Smooths Fine Lines and Wrinkles, Firms, Brightens | 30-Day Return Policy | Learn More |
| StriVectin NEW Pro Glowfoliant™ Mix-In Microderm Crystals | $45 | Smooths, Exfoliates, Removes Signs of Age, Brightens, Improves Texture, Repairs | 30-Day Return Policy | Learn More |
| Lux Skin Hydra Dermabrasion | $30 | Deep Exfoliation, Shrinks Pores, Treats Acne and Breakouts | 90-Day Money Back Guarantee | Learn More |
| Revive Skin Facial Handset | $199.99 | Hydrates, Exfoliates, Cleanses, Nourishes, Shrinks Pores, Brightens, Smooths Lines and Wrinkles | 90-Day Money Back Guarantee | Learn More |
| Lumae Skin Microdermabrasion Kit | $138 | Eliminates Dead Skin Calls, Polishes, Shrinks Pores, Gets Rid of Acne Scars, Lines, and Wrinkles | 12- Month Warranty, Returns Possible But No Details | Learn More |
Conclusion
DermaWand is a dermatology brand which offers 2 microcurrent devices for removal of wrinkles and lines and other skin health benefits, and 3 organic products to use along with the devices to provide added properties like hydration, anti-aging, and repair. It's not overly unique compared to other similar products, but it's fairly reasonably priced for the market.
The reviews varied in their opinions, but overall they were quite mediocre. Some users did get great skin care and anti-wrinkle benefits and appreciated the DermaWand before and after, and especially the before and after for DermaWand Pro. However, others said it was too much of a time investment. Some people mentioned having a reaction to the wands.
There is a chance that a device like this could cause a skin reaction or other DermaWand side effects, as could the other products if you have an allergy. If you experience these symptoms, stop using this brand immediately. Prior to trying it, it's a good idea to get approval from a dermatologist to make sure it's suitable for your skin.
For a hassle-free solution to eliminate wrinkles around the mouth and lips without injections, chemicals, or surgery, AngelLift Derma Strips are worth considering. Check out an Angel Lift review article for more insights.
Up NEXT – Naked & Thriving Review and Fenty Skin