What Is Sunday Riley?
Sunday Riley is a line of skincare that manufactures skin care products including, moisturizers, serums, oils, cleansers, sunscreen, eye care, and skin exfoliators.
The brand was instituted a decade ago by Sunday Riley. The manufacturer claims that the brand uses clinically proven ingredients sourced from the US, UK, Germany, Japan, and Italy in all their formulations.
The products contain fragrances derived from flowers and plant extracts.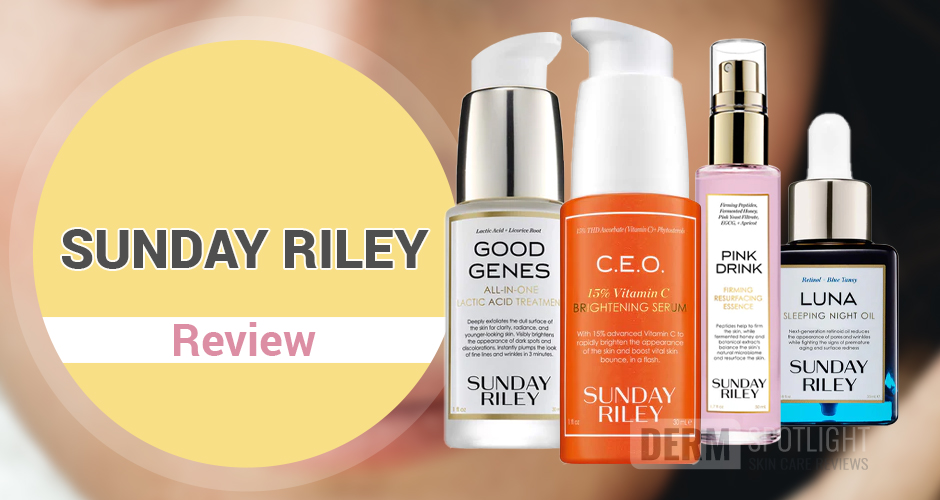 Sunday Riley Review. Image/Dermspotlight
Fast Facts
Sunday Riley
| | |
| --- | --- |
| Sunday Riley Background: | Founded in 2009 by Sunday Riley, Green lab certified, clinically proven ingredients, B Corp certified, cruelty-free, |
| Best for: | Acne, saggy skin, dark circles and puffiness, skin discoloration, dry skin, sensitive skin, wrinkles, and fine lines, exfoliation |
| Key Ingredients: | Lactic acid, glycolic acid, salicylic acid, ceramides, retinol, niacinamide, vitamin C, hyaluronic acid |
| Price Range: | $20 – $275 |
Does It Really Work?
Sunday Riley products deliver visible and immediate results. Customers who have used the products reported reduced dark spots, clearer skin, smoothened wrinkles, and hydrated skin.
The ingredients in most products are powerful and they are effective.
Advertisement
*All individuals are unique. Your results can and will vary.
What Are the Best-Selling Sunday Riley Products?
1. Sunday Riley Good Genes
Sunday Riley Good Genes All-in-one lactic acid treatment helps exfoliate dead skin cells and improve skin texture. Good genes contain lactic acid that helps brighten dark spots and discolorations, smoothen the appearance of wrinkles, and unclog pores.
Good Genes also contains licorice root, lemon grass, and arnica that help soothe inflammation, brighten skin complexion, refresh skin, and boost radiance.
Bottom line: Sunday Riley lactic acid is suitable for sensitive skin.
2. Sunday Riley Vitamin C Serum
This brightening vitamin C serum helps target discolorations, uneven skin tone, dark spots, and dullness. Sunday Riley vitamin C helps prevent premature aging, fight wrinkles, and promote a youthful appearance.
The formula also contains other powerful ingredients that help refine skin texture, reduce pore size, reduce skin redness, and promote radiant and smooth skin.
Bottom line: C.E.O vitamin C brightening serum that offers antioxidant protection
Advertisement
*All individuals are unique. Your results can and will vary.
3. Sunday Riley Luna Sleeping Night oil
Luna sleeping oil contains retinol, which works through the night to deliver a luminous, youthful, and even skin complexion. The oil also helps smoothen wrinkles, reduce the appearance of age spots, and hydrate skin.
The night oil also contains avocado seed oil that helps plump the skin and chia seed oil that helps calm redness and inflammation. However, this product is not suitable for
pregnant women.
Bottom line: Luna Night oil is free from parabens, sulfates, soy, gluten, and fragrance
4. Sunday Riley A+ High-Dose Retinoid Serum
An award-winning retinoid serum that fights aging by reducing the appearance of fine lines and wrinkles, improves damaged skin, evens skin complexion, and reverses the effects of sun damage.
Sunday Riley retinol serum also contains COQ1O and Hawaiian white honey, which acts as a humectant to help improve skin complexion and promote healthier-looking skin.
Bottom line: A+ High-Dose serum is a clinically proven serum that helps boost skin radiance and renew skin cells.
5. Sunday Riley Auto Correct Brightening and Depuffing Eye Contour Cream
Sunday Riley eye cream is a runaway bestseller that prevents tired eyes by reducing eye puffiness, minimizing the appearance of dark circles, and instantly brightening the eyes.
The cream also contains Brazilian ginseng root extract and horse chestnut extract that help reduce eye puffiness, smooth crow's feet, and hydrate under eye skin.
Bottom line: Auto Correct Brightening Eye cream contains powerful ingredients that allow you to achieve immediate results.
Pros and Cons of Sunday Riley Products
Advertisement
*All individuals are unique. Your results can and will vary.
Pros
Supports younger-looking skin
The brand ingredients have undergone clinical research and are safe for the skin
Sunday Riley products are free of sulfates, parabens, phthalates, and dyes
The products deliver fast and immediate results
Cons
The products contain fragrance
Some products are quite expensive
Individual results may vary
What Are the Ingredients in Sunday Riley Skincare Products?
Lactic Acid
Lactic acid is an exfoliate that is used in most skincare products. Lactic acid helps keep skin hydrated, improve skin texture and appearance, brighten skin complexion, and increase cell turnover.
The acid also helps get rid of accumulated dead skin cells, reduces the appearance of wrinkles and fine lines, and improves skin firmness and elasticity.
According to the National Library of Medicine, topical application of lactic acid helps reduce skin pigmentation, mild wrinkles, and skin roughness, and prevents photodamage.
Glycolic Acid
Glycolic acid is an AHA acid derived from sugarcane. Skincare products containing glycolic acid help exfoliate dead skin cells, prevent pore blockage, boost collagen production, and protect skin against UVA/UVB damage.
It also helps treat acne scars, clear dark patches, and promotes a youthful appearance. According to the Journal of Cosmetic Dermatology, glycolic acid restores skin elasticity, reverses the effects of aging, and stimulates collagen production. However, high concentrations may irritate the skin.
Salicylic Acid
Salicylic acid is a BHA acid that helps prevent acne breakouts by exfoliating the skin and clearing pores.
Certain quantities of salicylic acid help promote wound healing, prevent blackheads and whiteheads, and reduce skin redness and swelling.
Research published in the National Library of Medicine reveals that salicylic acid helps treat acne vulgaris, improve skin texture, and calm skin inflammation.
Ceramides
Ceramides are fat molecules or lipids that help hold the skin together. Ceramides help restore and replenish the skin moisture barrier, prevent moisture loss, promote plump skin, and protect the skin against bacteria, harmful irritants, and environmental aggressors.
Ceramides also tackle other skin concerns, including acne, wrinkles, redness, itchiness, and dullness.
According to the Cells Journal, ceramides help form a barrier to protect the skin against moisture loss, harmful substances, and other aggressors.
What is the Return Policy for Sunday Riley?
Sunday Riley believes in customer satisfaction and that is why you can contact them through the official website for exchange instructions. The brand offers a 30-day money-back guarantee for all its products.
How Does Sunday Riley Rate?
| Feature | Rating | Comments |
| --- | --- | --- |
| Safety | 4/5 | The manufacturer claims that the products are clean beauty and they contain clinically proven ingredients |
| Performance | 3.5/5 | Most customers love the results they are getting after using the product. The products deliver upon their promises. |
| Average customer ratings | 4/5 stars | Every product has a different rating on the official website. |
People Also Ask
Q: How Are the Reviews for Sunday Riley?
A: Sunday Riley reviews are available on the official website. Sunday Riley Ice Moisturizing Cream has many positive reviews and most customers claim that they cannot go a day without using the cream. Users of Sunday Riley UFO oil reveal that it helped clear their facial acne.
Q: Is Sunday Riley Vegan?
A: Yes, Sunday Riley products are vegan-friendly
Q: Is Sunday Riley a Safe Product Line?
A: The brand products are safe for the skin since they contain clean beauty and clinically proven ingredients. The manufacturer claims that the products are leaping bunny certified, My Green lab certified, and B Corp certified
Q: Is Sunday Riley Tested on Animals?
A: Sunday Riley is a cruelty-free brand and they do not test its products on animals
Q: Who Should Use Sunday Riley?
A: People of all ages and all skin types can find a product to use. Individuals struggling with wrinkles, dark circles, discolorations, puffiness, saggy skin, uneven skin tone, acne, sun damage, and skin inflammation can use products from this skincare brand.
Q: Who Manufacturers Sunday Riley?
A: Sunday Riley is the founder and owner of this luxury skincare brand
Q: Are Sunday Riley Products Safe During Pregnancy?
A: Pregnant women should consult a doctor before using the brand products
Conclusion
The skin is the largest organ in the body and it should be taken care of. This is all that Sunday Riley is about.
They are a skincare brand that manufactures a variety of products that promote healthy and youthful-looking skin.
The line also offers products that help brighten skin complexion, hydrate skin, reduce wrinkles, reverse sun damage, improve skin texture, and reduce discolorations.
The brand products are safe and according to customers, they deliver visible and immediate results. Consistency is key when it comes to skincare.
READ NEXT – Earth to Skin Review and My Perfect Review