What exactly is ROC Retinol?
RoC Retinol is a French brand founded in 1957 by Dr. Jean-Charles Lissarrague at the Roge Cavailles pharmacy in Paris. Lissarrague was a Parisian pharmacist who believed in proactive beauty care.
His goal was to develop innovative skin care products that would help women look and feel their best. Many firsts in skincare can be attributed to Lissarrague. He is recognized for developing the first hypoallergenic skincare product as well as the first sunscreen with SPF.
The company was also among the first to discover a method for stabilizing Retinol, the preferred anti-aging skincare ingredient. Retinol, a vitamin A derivative, is used to treat hyperpigmentation and fine lines.
Retinol is a Vitamin A derivative that belongs to the retinoids family. It was approved for use in acne patients in the 1970s. When applied to the skin, it promotes cell turnover and prevents pores from clogging, which protects against blemishes and helps all of your other skincare products penetrate and work better.
How Does ROC Retinol Function?
RoC Retinol functions on numerous levels and in a variety of ways. The brand's products encourage cell turnover by causing skin cells to shed, revealing healthy skin beneath. Cell turnover also aids in skin tone evenness by reducing and preventing hyperpigmentation, also known as dark spots.
Advertisement
*All individuals are unique. Your results can and will vary.
What exactly does ROC Retinol sell?
RoC Retinol sells a wide range of skincare products, including moisturizers, night creams, eye wrinkle treatments, RoC Retinol Correxion Eye Cream, and exfoliants, but its retinol-based anti-aging products are most well-known.
How much do ROC Retinol products cost?
RoC Retinol products are reasonably priced, as one would expect from a pharmacy brand, with most items costing less than $30. The RoC Retinol Correxion Deep Wrinkle Night Cream, RoC Retinol Correxion Max Daily Hydration Crème, and RoC Daily Resurfacing Disks all cost $22.99 each.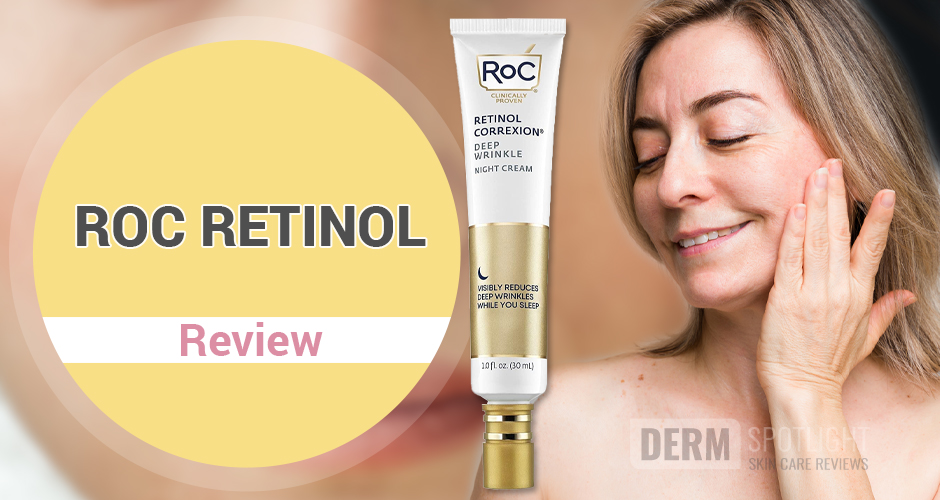 ROC Retinol Products. Image/Dermspotlight
RoC Retinol Major Ingredient Components
Water
It is primarily used as a solvent for ingredients that do not dissolve well in oils and prefer to dissolve in water.
Alkyl Benzoate
An emollient with a light and silky feel that is commonly used. It's gentle on the skin and the eyes, and it spreads smoothly and efficiently. It is frequently used in sunscreens because it is an excellent solvent for sunscreen agents.
Glyceryl Stearate
A common, waxy, white, solid substance that aids in the mixing of water and oil, adds body to creams, and leaves the skin feeling soft and smooth.
PEG-8
A small polymer molecule (made up of repeated Polyethylene glycol units, abbreviated as PEG) is used as a solubilizer and viscosity control agent.
Advertisement
*All individuals are unique. Your results can and will vary.
Alcohol Stearyl
– A versatile multi-tasker, this white to light yellowish oil-loving wax works well in oil-in-water emulsions. It softens and smoothens your skin (emollient), stabilizes oil-water mixtures, and gives them body.
Tromethamine
It's a little helper ingredient that aids in balancing the pH of the products. Because of its alkaline pH, it can neutralize acidic ingredients.
Panthenol
Its primary purpose in skin care is to hydrate the skin. It's a humectant, which means it can aid in attracting and retaining moisture in the skin. There's also evidence that panthenol can help our skin's production of lovely lipids, which are necessary for a solid and healthy skin barrier.
Carbomer
A large molecule made up of repeated subunits (an acrylic acid polymer) that magically transform a liquid into an excellent gel formula. It is usually necessary to neutralize it with a base (such as sodium hydroxide) for the thickening to occur, and it results in viscous, clear gels that feel nice and non-tacky on the skin. It's no surprise that it's a popular and widely used ingredient. In most formulations, it is typically used at 1% or less.
Isopropyl Myristate
A clear, colorless oil-like liquid that makes the skin feel smooth and pleasant (also known as emollient) without being greasy.
BHT
It stands for Butylated Hydroxy Toluene. It's a synthetic antioxidant that's commonly used as a preservative.
Skin Benefits of ROC Retinol
Acne treatment
Clean Pores
Increase cellular turnover
Boost collagen production
Increase elasticity
Reduce hyperpigmentation
Lighten the skin
Reduce and prevent fine lines and wrinkles.
Improve skin texture and tone
Some Other ROC Retinol Products
If efficacy is essential to you, RoC Retinol Deep Wrinkle Night Cream contains a unique main level of Retinol that is not found in other products, which means you will notice its resurfacing effects sooner than with other products. The bestseller is also inexpensive, with prices comparable to those found in most drugstores.
2. Retinol SkinCeuticals
Because of its lower retinol concentration, this night cream is the best because it isn't as irritating as more potent products. This is because even low-concentration products can produce the desired results if given enough time. This cream also contains the antioxidant vitamin C, another skincare powerhouse if you want smoother, more radiant skin.
3. LiftActiv Retinol HA Concentrate by Vichy
"Vichy's LiftActiv has an excellent price point and uses LR2412, a jasmonic acid derivative, which helps to accelerate the skin's ability to repair itself. It also contains hyaluronic acid, which provides intense hydration without leaving a greasy aftertaste.
4. Retinol Ceramide Capsules by Elizabeth Arden
Each capsule contains a skin-boosting cocktail of Retinol, peptides, ceramides, and emollients that work together to leave the skin smoother, more precise, and more hydrated. And, if we're being honest, we think the capsules are prettier than anything else on our bathroom shelves.
Advertisement
*All individuals are unique. Your results can and will vary.
5. Avene Retrinal Intensive Cream
Despite its higher concentration, this cream is a remarkably nourishing moisturizer. Those hydrating effects are most likely due to its active ingredient, retinal, a type of Retinol that is less irritating and better suited for sensitive skin.
6. Age Defense by SkinMedica Retinol Complex
This effective Retinol is not only formulated to reduce redness and irritation, but it is also free of parabens (preservatives that may be harmful to your health) and a solid option if your skin is prone to dryness.
Pros and Cons of ROC Retinol Brand
Pros
Its minimizing effect helps to prevent wrinkles while also smoothing out existing fine lines and wrinkles.
Exfoliate at the cellular level to brighten dull skin, resulting in a brighter and smoother new skin.
Control oily skin and reduce breakouts.
Over time, fade out dark spots, sun spots, and hyperpigmentation to even out your complexion.
Cons
Some products have a strong odor that may cause others to believe they are inhaling chemical fumes.
Most products appear to contain parabens, which can be harmful to the skin, primarily if used for an extended period.
Side Effects of RoC Retinol
Medical professionals consider RoC Retinol to be one of the most thoroughly researched and recommended skincare brands. Although RoC Retinol products have many skin benefits, there are some side effects.
RoC Retinol may cause the following side effects:
Redness
Irritation
Burning
Itching
Sensitive skin
Excessive flaking and peeling of the skin
Increased sensitivity to sunlight
Dermatological cancer
Frequently Asked Questions
Q: Is RoC retinol cream good
A: Yes, RoC Retinol is safe to use on the skin. It is one of the most commonly recommended ingredients for anti-aging skincare. Minor side effects of RoC Retinol include redness and irritation. However, these side effects fade after a few weeks as the skin adjusts to the increased cell turnover rate.
Q: Is RoC Retinol Harmful to Sensitive Skin?
A: RoC Retinol is not harmful to sensitive skin. RoC Retinol Correxion Sensitive Eye Cream is recommended that people with sensitive or dry skin start with a lower concentration of Retinol, such as 0.25 percent, and work their way up. If you are new to RoC Retinol, begin by applying a small amount 2-3 times per week to allow tolerance to develop.
Q: Where can I buy RoC retinol?
A: RoC Retinol is a brand available at Target, Walgreens, CVS, Rite Aid, Ulta, and Amazon.
Q: Is RoC Retinol Safe to Use Around the Eyes?
A: Because the skin around the eyes is thin, it is a common misconception that RoC Retinol is not safe to use. RoC Retinol should be applied to the eyes because this is where most of the damage occurs.
Q: Is RoC Retinol Safe to Use on Wrinkles?
A: RoC Retinol is safe, but it also helps reduce wrinkles and fine lines while preventing future lines from appearing. RoC Retinol stimulates collagen production, making skin appear plump and youthful.
Q: Is RoC Retinol Safe to Use Long-Term?
A: There is no evidence that RoC Retinol is unsafe for long-term use. RoC Retinol can be used to fight the signs of aging indefinitely.
Q: How Can I Avoid RoC Retinol Side Effects?
A: RoC Retinol has a bad reputation due to side effects such as redness, peeling, and irritation. A little education can go a long way toward reducing RoC Retinol's side effects.
Conclusion
Without a doubt, RoC Retinol products are excellent and well worth the price. Clinically proven products are effective, which is why they are so appealing. If you like the benefits of Retin-A but prefer it in a lower concentration, RoC Retinol may be a good option for you.
However, if you begin using RoC Retinol products, avoid using other anti-aging products containing Retinol, as this will only harm your skin. Also, use sunscreen with a sun protection factor of 15 or higher, as the products can make your skin sun-sensitive.
Up Next – Beautycounter