What Are Hair Growth Products?
Losing your hair can be a serious problem for many people, both men, and women. The most common reasons for hair loss are hormone imbalances, nutritional disorders, metabolic and endocrine disorders, pattern hair loss, autoimmune disorders, drugs, skin conditions such as psoriasis, seborrheic dermatitis, severe illness, trauma, and stress. Certain hairstyles (tight braids and ponytails), improper hair care, and styling (chemical treatments and heat) can also contribute to hair loss. These abnormalities and deficiencies need to be identified and corrected. Please seek a dermatologist for correct diagnosis, evaluation, and management, if you have hair loss as there are many reasons for hair loss, both non-scarring and scarring.
Vitamins, supplements, and other products including hair oils, hair growth masks, sprays, shampoos, and conditioners that promise thicker, fuller hair are not all FDA approved, and well-researched. They can be an option for people who want healthier-looking hair or want to prevent hair thinning from happening in the future. These products may help mild thinning caused by stress, aging, and possibly genetics. Vitamins and supplements can't treat hair loss related to an underlying illness.
Hair growth products are popular in the market, and there are many of them available.
Many brands are highly effective at preventing thinning and breakage, growing the hair longer and thicker, and providing nutrients that promote healthy hair and a shiny appearance.
What Are the Benefits of Hair Growth Products?
These products support hair growth.
They can make the hair thicker, with more volume.
Hair growth products enhance the overall health of the hair.
The products can prevent thinning and breakage.
The best hair growth products don't have harmful side effects.
How Do Hair Growth Products Work?
Most products contain a wealth of nutrients, including vitamins for hair growth, which nourish the hair and follicles, helping to promote healthier hair that grows more quickly. In addition, they are rich in antioxidants which kill damaging free radicals, decrease oxidative stress, and help repair damage to the scalp and follicles.
Hair growth products protect the hair from damage due to environmental stressors like UV rays. An article in the Journal of Photochemistry and Photobiology discussed the efficacy of antioxidants in the human hair (1).
Other ingredients in hair loss products can prevent the conversion of testosterone into the hormone DHT, which is largely responsible for hair loss. Blocking DHT can prevent hair shedding. The formulas can also contain anti-inflammatory agents, which can decrease redness and swelling on the scalp.
Some products contain key proteins like collagen for hair growth and strength. Some have ingredients which can boost the production of keratin, the protein-making up the hair, and improve its infrastructure. A study in Biotechnology Reports found that recombinant keratin enriched the health of the hair, and improved strength, smoothness, and diameter (2).
What Are Some of the Primary Ingredients in Hair Growth Products?
These are some of the primary active ingredients in hair growth products:
Saw Palmetto – This is an extract from a palm tree which helps hair growth by preventing the conversion of testosterone into the hair-loss hormone DHT (3). It also contains anti-inflammatory agents which decrease scalp irritation. A review article in the Biomedical Journal of Scientific and Technical Research discussed the use of saw palmetto in hair care (4).
Vitamin E – This vitamin is a powerful antioxidant which can kill free radicals and repair damage to the hair. It's one of the best hair vitamins which can improve immunity, health, and initiate growth (5). A review article published in Skin Appendage Disorders stated that Vitamin E is an effective remedy for the treatment of hair loss (6).
Horsetail – This substance contains silicon, which can speed up growth and make the hair shiny and radiant. It may also boost collagen production, which contributes to hair health and strength.
In addition, it's an antioxidant which can repair damage to the scalp and follicles. A study in rats in Journal of Pharmacy & Pharmacognosy Research concluded that horsetail had potent hair regenerative properties (7).
Biotin – This is also called Vitamin B7, and it's a key nutrient in protein synthesis. In addition, it produces keratin and helps build its infrastructure, leading to hair growth and health (8). A review published in Skin Appendage Disorders explored the possible uses of biotin in hair loss.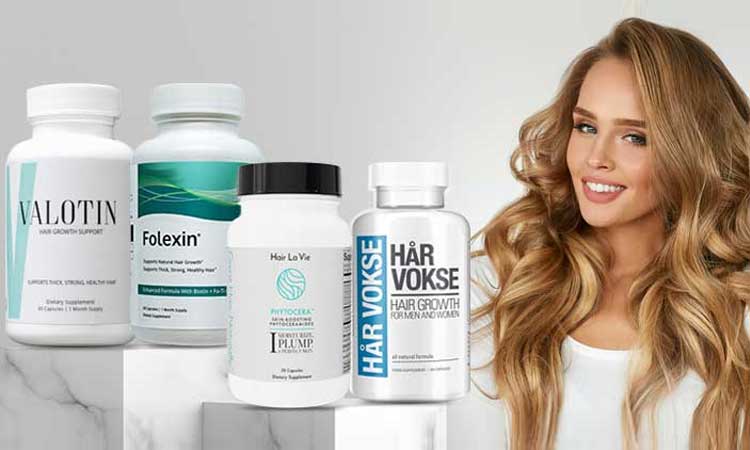 Best Hair Growth Products. Image/Dermspotlight
Which Are the Best Hair Growth Products?
If you're looking for some of the best hair growth products on the market, you've come to the right place. We have evaluated numerous brands which profess hair health and growth benefits to come up with a list of the top products available, and we've also asked experts for their opinion. Here are our choices:
Folexin
Folexin is a supplement which aims to strengthen your hair, support growth and thickness, and make it radiant and healthy in feel and appearance. A number of dermatologists recommend this product because it contains a very complete list of organic ingredients and nutrients which can enrich your hair. Many of the Folexin reviews were highly positive, with a number of users saying they experienced faster growth and overall hair health.
Pros
It's a safe product with no harmful side effects.
The manufacturer makes Folexin in an FDA approved facility under GMP standards.
The price of Folexin is very reasonable.
Cons
It contains soy, which could lead to an allergic reaction in some users.
Different users will experience different speeds of growth.
Price: $24.95 for one month
Ingredients: Nettle Root, Peony, Manganese, Magnesium, Calcium, Vitamins A, C, E, D3, B1, B5, B6, and B12, Iron, Zinc, Biotin, Spirulina, Alfalfa, Barley Grass, Saw Palmetto, Plant Sterols, Fo Ti, Bamboo Extract
---
Valotin
Valotin is a brand of hair growth products which includes supplements, shampoo, conditioner, serum, and other rich items. These products are full of nutrients, the best vitamins for hair growth, and other ingredients which strengthen the hair, promote growth and thickness, repair damage, and promote its overall health.
Dermatologists recommend this brand due to its rich ingredient list and competitive prices, and the Valotin hair growth products reviews were also very positive.
Pros
The products complement each other perfectly.
Valotin can prevent shedding and thinning hair.
The brand repairs damage to the hair and protects it.
Cons
The company does not provide free samples.
Some products include fragrance, which some users may not like.
Prices: Serum $22.95, Shampoo $30.95, Conditioner $30.95, Supplement $24.95
Ingredients: Alba Bark, Coconut Oil, Lemon Balm, Witch Hazel Extract, Aloe Vera, Yarrow Extract, Dog Rose Extract, Chamomile, Confrey Extract, Peony, Horsetail Extract, Saw Palmetto, Barley Grass, Alfalfa, Bamboo Extract
---
Hair La Vie
Hair La Vie is a popular brand of hair care products which includes items like serums, hair masks, scrubs, shampoos, conditioners, and vitamins. It's one of the most effective brands on the market for hair growth and thickness, strengthening, nourishing, and repairing. The ingredients are 100% organic and include no harmful additives. The line is primarily aimed at hair growth for women, but men can also use the products successfully.
Pros
The brand uses high-level ingredients which enrich the hair.
You can use these products together for even more powerful results.
Hair La Vie can leave you with radiant, healthy hair.
Cons
This brand is mostly marketed to women, leaving out men.
The results will vary for different users.
Prices: From $9.99 to $89.99. If you subscribe to the monthly service, you get a discount.
Ingredients: Bamboo Stem and Leaf, Biotin, Flaxseed Oil, Horsetail Extract, Reishi Mushroom, Amla Fruit Extract, Collagen, Saw Palmetto, Zinc, Copper, Vitamins A, C, D3, E, B6, Plant Sterols
---
Hair La Vie Clinical Formula Hair Vitamins
We asked a collection of dermatologists to name their favorite vitamins for hair loss, and 90% of them placed this brand in their top 3. Hair La Vie Clinical Formula Hair Vitamins contains some of the top ingredients for promoting growth and revitalising the hair, as well as promoting volume, density, and overall health and shine. The formula is one of the best natural hair growth products, and it also improves overall body health and strengthens the immune system.
Pros
These hair loss supplements rejuvenate the follicles so the hair grows in longer and thicker.
Hair La Vie Clinical Formula Hair Vitamins also promotes skin and nail health.
The brand is cruelty free and contains no wheat, dairy, GMOs, or preservatives.
Cons
This product is fairly expensive.
High demand sometimes leads to low stock.
Price: $59.99 one bottle, one-time purchase; $49.99 one bottle, subscription
Ingredients: Bamboo Stem and Leaf, Horsehair Extract, Flaxseed Oil, Reishi Mushroom, Alms Fruit Extract, Hydrolyzed Collagen, Biotin, Iron, Iodine, Copper, Selenium, Vitamins A, D3, E and B6
---
Har Vokse
Har Vokse is a popular hair growth supplement which protects and strengthens the hair, promotes regrowth, and nourishes. It works on multiple types of hair at different stages of growth to thicken and fight hair loss. In addition, it prevents shedding and thinning. If you're looking for hair growth pills that actually work, Har Vokse comes highly recommended. This is one of the best supplements for hair growth available today.
Pros
Har Vokse is suitable for all hair types.
It includes clinically proven ingredients.
The results of this supplement can help boost your self-esteem.
Cons
This supplement is somewhat expensive.
They are some key ingredients missing like Horsetail Extract and Saw Palmetto.
Price: $59.95/bottle + free shipping
Ingredients: Vitamin E, Vitamin B6, Selenium, Copper, L-Arginine, L-Cysteine, Biotin, Amla Extract, Hydrolyzed Marine Collagen, Rosemary Leaf Extract
---
Har Vokse Hair Spray
Har Vokse Hair Spray is an easy to use, on the go product that you can spray on your hair anytime to stimulate growth and thickness. It's a nourishing product for the hair and includes no harmful chemicals or other additives.
Certified Herbalist, Nutritionist and Naturopath Angela MacRitchie recommends this product highly, explaining that, "Har Vokse Hair Spray contains a unique complex of natural active ingredients for both men and women that helps stimulate hair growth and thicken existing hair (11)."
Pros
It can repair damage to the scalp.
Har Vokse Hair Spray is soothing and can decrease scalp redness.
It's free of fragrance and other potentially harmful ingredients.
Cons
The ingredients list is somewhat limited.
Har Vokse Hair Spray is a costly product.
Price: $61.81 for one bottle; buy 2 and get 1 free
Ingredients: Fucus Vesiculosus Thallus Extract, Urtica Dioica Leaf Extract, Rosmarinus Officinalis Herb Extract, Coffea Arabica Seed Extract, Camellia Sinensis Leaf Extract
---
Goodbye Grey
The main purpose of this supplement is to remove grey hair and bring you back to your natural color and appearance. In addition, it deeply nourishes the follicles and scalp. It can stimulate hair growth and improve thickness, giving you more body and promoting overall health.
There were a number of Goodbye Grey reviews from happy customers who said that this product got rid of their grey and gave their hair a real health boost.
Pros
Goodbye Grey can repair damage to the hair and follicles.
There are no harmful additives or chemicals.
It can prevent hair loss and shedding.
Cons
It's no longer for sale on the official website.
The formula could use additional ingredients.
Price: $62.63
Ingredients: Zinc, Biotin, Pantothenic Acid (Vitamin B5), Horsetail, Chlorophyll
---
What to Consider When Buying Hair Growth Products
There are numerous hair growth products available on the market, and you can use some of them simultaneously, like shampoo for thinning hair and conditioner along with hair growth supplements. In order to find the right products for you, it's important to do careful research and comparison among brands. These are the most important factors you should consider when looking for hair growth products.
Value for Cost – Look at the price of the product in comparison with what it offers, in terms of ingredients and benefits. Then compare the cost with other similar items on the market to help decide if it's worth it.
Manufacturer – It's always best to buy a product from a well-known, reputable manufacturer. That way you know that you're getting quality products and that their safety practices are legitimate.
Ingredients – The product should include 100% organic ingredients, free of any potentially harmful additives. The list should have some of the key ingredients we discussed in this article and be rich in nutrients which will nourish the hair.
Safety – Make sure the product doesn't have any chemical or artificial ingredients or fragrances that could cause a scalp reaction. Ideally, the manufacturer should produce the products in an FDA-approved facility and follow GMP standards.
Satisfaction Guarantee – Any company that has faith in their product will give you enough time to try it out to see if it's effective. Make sure that any brand you buy offers at least a 30-60 day money-back guarantee, so you can return it if it doesn't work for you and get a refund.
How to Stop Hair Loss and Regrow Hair Naturally
Along with your hair growth products, it's important to point out that there are some natural, lifestyle methods which can help promote growth. Try to incorporate some of these suggestions into your lifestyle.
Diet
Follow a healthy diet rich in fruits, vegetables, fish, nuts, and grains, and eat mostly whole foods. A poor diet with inadequate protein, iron, and zinc can initiate shedding and hinder growth. In addition, ensure in particular that you eat about 50g of protein each day to stimulate hair growth and health.
Scalp Massage
Get a regular scalp massage, be it professionally or from someone you know. This stimulates the hair follicles, and over time will likely either initiate or assist with hair growth. A study in Eplasty concluded that a standardized scalp massage can promote hair thickness (9).
According to board-certified hair restoration expert Dr. Alan J. Bauman, "Research supports the idea that a scalp massage has beneficial effects on stress hormones, blood pressure, and heart rate (10)."
Hair Tools and Products
Refrain from using any tools which heat up your hair, including hair blowers, curling irons, or straighteners. The heat can damage the hair and cause breakage, as well as negatively affecting its overall health. Apply a heat protectant spray and use an ionic hairdryer and nano-ceramic hairdryer if you need to use these hair tools.
Stop chemically treating or dying your hair, as these products can also cause breakage and damage. Going natural is a better way to get healthy hair.
Trim Regularly
Get rid of your split ends on a regular basis. When you're trying to grow your hair, cutting it doesn't sound logical, but it really is. The ends are dry and damaged, and this actually prevents your healthy hair from growing.
Once you get rid of the ends, the hair will grow faster. How often you should get a trim varies depending on the individual and the condition of your hair. It may be anywhere from 2-6 months.
Hair Care
Do not wash your hair every day. Wash your hair once or twice weekly if you have long hair and skip a day or 2 for shorter hair). Moisturize after washing your hair and deep moisturize weekly. Rinse with cool water to close the cuticle and make the hair shiny. Avoid brushing wet hair, use a wide-tooth comb to minimize breakage.
Lower Stress
Stress can initiate and exacerbate hair loss. By working on your mental health and lowering your anxiety, hair loss may slow down, and growth could improve. There are many ways to do this, including enrolling for a yoga class, trying mindfulness meditation, taking a vacation, speaking to a therapist, or spending more time with people you love.
Frequently Asked Questions (FAQs)
Q: Are Hair Growth Products Safe?
A: Many of the brands on the market are fairly safe. However, you have to make sure the products don't include any artificial or chemical ingredients or fragrances which could cause irritation on your scalp. If this happens, stop using it and see a dermatologist if necessary.
In addition, it's important to make sure that the manufacturer produces the product in a safe, ideally FDA-approved facility under strict safety conditions.
Q: Can You Buy Hair Growth Products Over the Counter?
A: Hair growth products such as the ones we are discussing here are all over the counter: shampoo, conditioner, spray, and organic hair supplements. However, you can also go to a board-certified dermatologist for a minoxidil, finasteride prescription, plasma-rich platelet scalp injections, or phototherapy. This is the only topical hair growth product approved by the FDA. You may combine minoxidil with other over-the counter hair growth products.
Q: Who Can Benefit From Hair Growth Products?
A: According to Dr. Dominic Burg, Ph.D., chief scientist and trichologist at Evolis Professional, "Hair loss and changes in hair quality over time are complex issues that can have a number of contributing factors (12)."
People lose their hair for a number of reasons, from male-pattern baldness to medical treatments that initiate loss. Generally speaking, these over-the-counter hair loss products are suitable for anyone experiencing loss, breakage, or thinning hair. It may also be a good choice for someone who is not losing hair but wants more bulk and volume.
Q: How Long Do Hair Growth Products Take to Work?
A: With most hair loss products, this is a gradual process which takes place over a period of 4-6 months, and it requires consistent usage in order to work well. The product has to heal damage to the follicles and regrow new hair, which takes time.
Q: Are Hair Growth Products Only For Men?
A: Absolutely not. Hair loss is not a problem that's unique to men, as many women experience it as well. There are a number of hair growth for women items on the market. The majority of hair growth products are for either men or women, but some brands have separate items.
Q: Are Hair Growth Products Expensive?
A: It depends on your budget. Prices for these products vary quite a bit, but you can find some of the best shampoos for hair growth, conditioner, spray, hair growth serum, supplements, and other items for a fairly reasonable price suited to your range. There's so much variation we can't even come up with an average.
Q: Where to Buy Hair Growth Products?
A: Generally speaking, you can buy hair growth products from many retailers both online and offline. They are for sale at salons, drug stores, cosmetic shops, and from numerous websites. Of course, it's important to evaluate a number of brands and decide which is best for you, and then research where you can get those particular products.
Q: What Hair Growth Products Are FDA Approved?
A: Over-the-counter hair loss products like dietary supplements, shampoos, and conditioners do not require FDA approval as they are not medication. Ideally, look for a company that produces its products in an FDA-approved facility and follows GMP standards.
Q: Do Hair Growth Products Work on Eyebrows?
A: Most of the products designed to grow the hair on your head are not meant for eyebrow growth. The skin under your eyebrows is more sensitive, and the brows themselves are much thicker than regular hair.
There are numerous products on the market which specifically help grow the eyebrow hair. Some evidence suggests that minoxidil is effective for this purpose. A study published in The Journal of Dermatology concluded that 3% minoxidil lead to modest eyebrow hair growth (13).
Q: Can Hair Growth Products Cause Hair Loss?
A: It has happened on rare occasion, but generally speaking no, these products do not cause hair loss. According to Dr. Burg, "Most cosmetic products use a common pool of ingredients recognized as safe by the relevant authorities, e.g., the Cosmetic Directive in Europe, (12)"
Anabel Kingsley, trichologist and president of Philip Kingsley, says that products don't cause true hair loss unless you have a severe allergic reaction to an ingredient (12). Make sure you check the ingredients list carefully before selecting a new brand.
Tips to Get the Most From Hair Growth Products
Once you've picked out your hair growth products, you want to make sure you use them as effectively as possible to initiate maximum growth. Here are some of the best tips for helping hair growth products work well:
You can combine different treatments, such as a supplement with a shampoo and conditioner. However, be careful not to overdo it, as too much product in the hair can have a negative impact on hair and growth.
Don't worry if you notice some initial shedding, unless it's severe. This does sometimes occur at the beginning of treatment, but it goes away, and growth begins to appear.
Do not over wash your hair, especially with a hair growth treatment shampoo. Instead of helping, it will strip it of essential oils and possibly make it dry. Some people have to wash their hair once a day, which should be fine if you condition well. However, it's better if you can wait a day or two in between washes.
Include products in your regimen with some of the best oil for hair growth, like coconut, roucou, or argan. This will deeply hydrate your hair and keep it healthy and shiny.
Chart your hair growth progress so you can see the effectiveness of the treatments. One ideal way to do this is through daily or weekly videos.
If you develop redness or a rash on your scalp, stop using the product immediately. If necessary, make an appointment with a board-certified dermatologist.
Conclusion
Hair loss is such a common problem for both men and women that the market rose to the occasion, offering a range of different products including hair growth pills, serums, sprays, conditioners, shampoos, and many other options besides. Many of these items can be combined items, for the ultimate hair growth kit.
In addition to using hair growth products, the nutrition you take into your body can help grow your hair. Following a nourishing diet rich in protein, fruits and vegetables, good fats, and other antioxidant-rich foods will help enrich the follicles and may promote growth and overall hair and all-body health.
Prior to embarking on your hair growth journey, we would advise you to do plenty of research into the brands you like, in terms of the reputation of the manufacturer, the price, the quality, and research supporting the ingredients, the guarantee, and the safety practices of the company. Read through the customer reviews carefully for the pros and cons before you make a final decision on a product.
Ideally, using hair growth products will help you meet your goals, transform your appearance, and give your self-confidence a boost. If one product doesn't work for you, don't worry, there are many other options out there.
Please consult with an expert board-certified dermatologist for correct diagnosis, evaluation, and management, if you have hair loss as there are many reasons scarring and non-scarring causes for hair loss, some of which require more than over the counter products for hair loss.