What Is ScalpMED?
ScalpMED hair growth is a natural hair care line divided into ScalpMED for men and ScalpMED for women products for hair loss and thinning. The items aim to enhance hair growth and thickness, provide the follicles with rich nutrients, and improve the overall health of the hair. ScalpMED includes products which cleanse, repair, and protect the hair. Here are some of the key items in the line:
'Grow My Hair' Hair Growth Supplement – This organic product provides the hair and the follicles with the nutrients they require to grow long, thick, healthy, and strong.
'Thicken My Hair' Shampoo – This is a gentle, organic shampoo meant for people with thinning hair. It thickens the hair and strengthens it by providing essential nutrients.
'Repair My Hair' Conditioner – This is a conditioner meant for daily use. It gives the hair nutrients, including 22 amino acids which support a healthy scalp for hair growth.
Detox My Scalp Follicle Detoxifier – This is a treatment for hair loss which detoxifies the scalp of bacteria and other impurities. This allows it to grow in much thicker.
Advertisement
*All individuals are unique. Your results can and will vary.
Cortex Enlarger – This is a hair spray that causes the hair shaft and fibers to become much thicker, so your hair has more volume and body.
FAST FACTS
SCALPMED
Hair Types: All, excluding bald or patchy hair loss, and hair loss through chemotherapy
Uses: Hair growth, thickness, and overall health, moisturizing
Active Ingredients: Biotin, Minoxidil, Horsetail Extract, Turmeric, Green Tea, Pygeum
Prices: $20s and 30s for individual products
About the Brand: Celmatrix Corporation, a hair loss company in Las Vegas, Nevada
Advertisement
*All individuals are unique. Your results can and will vary.
Other Brands You May Like: Har Vokse, Viviscal, Groh Hair, HairAnew, and Hair Hero
What Are the Benefits of ScalpMED?
Pros
ScalpMED products may encourage hair growth.
They could repair damage to the hair and the follicles.
These products might enhance overall hair health.
ScalpMED may make the hair grow in thicker.
They have products for both men and women.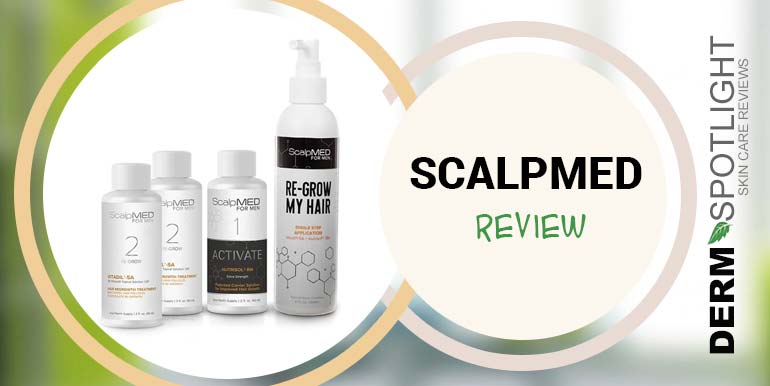 ScalpMED Hair Regrowth Treatment. Image/Dermspotlight
What Is ScalpMED Made Of?
Here are some of the primary active ScalpMED ingredients.
Biotin – This is a B vitamin sometimes referred to as Vitamin H. It's involved in numerous metabolic processes in the body. There's evidence it can lead to hair growth and enhance its overall health. A review article in Skin Appendage Disorders explored the use of biotin supplementation for treating hair loss.
Minoxidil – This is a topical solution for the treatment of hair loss. It can initiate hair growth by improving the circulation in the scalp, and by activating the hair follicles. The substance is FDA approved for hair loss. An article in Drug Design, Development and Therapy explored minoxidil and its use in hair disorders.
Horsetail Extract – This is a fern called Equisetum Arvense, which grows in the arctic and other parts of the northern hemisphere. It's high in antioxidant properties which repair damage to the hair and follicles and protect it from harm.
It also initiates the production of more collagen, which strengthens the hair and prevents follicle damage. It contain silicon, which according to Anais Brasileiros de Dermatologia is key for collagen synthesis.
How Does ScalpMED Work?
One of the primary active ingredients in ScalpMED hair growth is minoxidil, which is known for its hair growth properties. It functions by relaxing the blood vessels in the scalp, which in turn can elevate circulation to the follicles and scalp.
This encourages hair growth and improves the health of the scalp. In addition, it can activate follicles that are dormant, restarting the hair growth. A one-year observational study in the Journal of the American Academy of Dermatology found that minoxidil 5% was highly effective at growing hair and reducing shedding in people with hair loss.
Many of the botanicals in these products are high in antioxidants, which kill free radicals and lower oxidative stress. This can repair damage to the hair and follicles and protect it from future potential harm. There are also anti-inflammatory properties which can help treat scalp conditions.
ScalpMED is rich in nutrients like amino acids and vitamins which provide the hair with nourishment, improving its overall health. An article in Clinics in Dermatology discussed the connection between nutrition and hair.
Advertisement
*All individuals are unique. Your results can and will vary.
In addition, there are some ingredients which provide a lot of moisture to the hair, eliminating dryness.
How Do I Use ScalpMED?
There are numerous products in the ScalpMED line, like hair growth supplements, shampoo, conditioner, and styling spray. Each item has its own individual directions printed on the label. Make sure to follow the instructions carefully and don't overuse any of the products.
Can I Use ScalpMED if I Have Sensitive Skin?
The manufacturer does not mention this point on their website, but the products do use fairly gentle ingredients. Minoxidil could cause ScalpMED side effects like irritation on the skin. If you should notice as redness or itchiness on your scalp, stop using these hair growth products immediately.
Read Also – Hair La Vie and Nioxin Recharging Complex
How Much is ScalpMED and Where Can I Buy It?
You can buy ScalpMED on the manufacturer's official website, on eBay, and there is also ScalpMED Amazon. Here are the prices of the key products in the line. They are available in separate men's and women's lines. The ScalpMED cost of some of the key items are as follows:
Repair My Hair Conditioner – $25.95
Thicken My Hair Shampoo – $23.95
Grow My Hair Supplements – $39.95
Detox My Scalp – $36.95
Cortex Enlarger – $37.50
Patented Hair Regrowth System – $89.95
ScalpMed Essentials Kit – $59.95
What is the Return Policy for ScalpMED?
The manufacturer has a 120-day money back guarantee. If you're not happy with the product, contact them and then send back the items within 120 days of the date of purchase. Your refund will not include shipping charges.
ScalpMED Alternatives
| Brand | Price | Active Ingredients |
| --- | --- | --- |
| Valotin Hair Growth Support Supplement | $24.95 | Vitamin D3 (as cholecalciferol), Iron (as Ferrous fumarate), Folate, Zinc |
| KeraViatin Hair Supplements | $39 | Keraviatin10 Complex, Saw Palmetto, Zinc, Selenium, Biotin, B vitamins, Bamboo, Curcumin, Sesame Oil, Bioperine |
| Hairburst | $20s and 30s | MSM, Collagen, Biotin, Silica, Zinc, Vitamins A and C, B Vitamins |
| HairOmega | $28.78 | Zinc, Selenium, Copper, Biotin, Saw Palmetto, Vitamins A, C, D and E, Bamboo, Red Raspberry, Cat's Claw Bark, Juniper Berry Powder, Stinging Nettle |
| Moon Juice SuperHair | $60 (One-time purchase); $54 (subscription) | Saw Palmetto, Pumpkin Seed, Zinc, Iodine, Ashwagandha, Organic Kelp Powder; Horsetail Grass Extract, Organic Red Radix Root Powder |
People Also Ask
Q: How Are the Reviews for ScalpMED?
A: The ScalpMED reviews varied, but many of them were from happy customers who experienced considerable hair growth with these products. There were quite a few people who said they had been using this line for a long time with positive results in overall health and less shedding.
However, there were also customers who didn't get a lot of benefit from this product and were disappointed. There were some complaints about customer service getting back to people.
Q: How Long Before You See Results with ScalpMED?
A: Results will vary from person to person, but generally speaking it should take anywhere from 4 to 6 months for these products to show full results in terms of hair growth, thickness, and overall health and shine.
Q: Is ScalpMED a Safe Product Line?
A: The ingredients used in the ScalpMED products are very safe, high-quality organic ingredients. There is a possibility that you could develop a skin reaction on your scalp if you have an allergy to an ingredient.
If this occurs, stop using the line right away and see a dermatologist if necessary. In addition, you may experience irritation if it gets in your eyes. Wash it out immediately with water.
Q: How Does ScalpMED Compare to Other Hair Care Product Lines?
A: ScalpMED does fairly well comparted to other lines. It's very reasonably priced compared to some other brands, which makes it more accessible to many people. It has a line for both men and women, dealing with specific issues different to each. Some other brands do this, and some offer general products.
In terms of ingredients, ScalpMED focuses largely on minoxidil, which is a high-quality hair loss substance found in many brands. There are also other high-level organic substances which can nourish and enrich the hair. Some of them are also included in other brands.
Q: Does ScalpMED Really Work?
A: This product should work well, but it's possible that it may only function really well for people with specific types of hair loss. One of the main ingredients, minoxidil, is clinically proven to increase hair growth.
However, it does not work well for people who are bald or who have patches of hair loss. There are other hair growth substances like biotin included which may help with these issues. Certainly, many of the ScalpMED reviews said they found these products effective.
Q: Who Should Use ScalpMED?
A: ScalpMED is an organic hair care product line for both men and women. It's aimed towards people who are experiencing hair loss or thinning, and who want to encourage growth and thickness. Alternately, it's also for those who don't have hair loss but want to increase volume and body.
Q: Who Manufacturers ScalpMED?
A: The manufacturer of ScalpMED is Celmatrix Corporation, which is located in Las Vegas, Nevada. This organization produces hair replacement products, and they have been in business for 15 years. Many of their items focus on the use of minoxidil as a primary ingredient.
Q: Can I Buy ScalpMED in Stores?
A: No, ScalpMED is not for sale in any actual retail stores. You can get it on the manufacturer's official website, on Amazon, and on eBay.
Conclusion
ScalpMED is a good quality product line for the hair, which focuses on regrowth, thickening, and enhancing its overall health. It's divided into a men's and women's section, with items specific to the hair needs of each gender. It repairs damage to the hair and follicles, leaving the hair in much better condition.
The ScalpMED reviews 2020 were somewhat divided. A little more than half of the users really appreciated this product line, and found it led to considerable hair growth, thickening, and nourishing of their hair. Others found it ineffective, and some mentioned having difficulty getting in touch with customer service.
Ingredients like minoxidil may cause a skin reaction the scalp if you have sensitive skin. If you notice redness, itchy skin, or irritation, discontinue use of this product line. It's a good idea to go to a dermatologist before using new skin or hair care, to make sure it's suitable for your skin.
Up Next – Vibrance Hair Growth Vitamins and Nutrafol