What Is HairOmega?
HairOmega DHT promises to provide the hair with essential nutrients and encourage hair growth. It also makes the hair thicker and gives it more body and fullness. This product is ideal for men or women who are experiencing hair loss and shedding. It's very rich in vitamins and minerals which nourish the hair and follicles.
FAST FACTS
DRFORMULAS HAIROMEGA DHT BLOCKER BIOTIN
Hair Types: All hair types
Uses: Hair growth, strength, and thickness; repair and protection
Active Ingredients: Zinc, Selenium, Copper, Biotin, Saw Palmetto, Vitamins A, C, D and E, Bamboo, Red Raspberry, Cat's Claw Bark, Juniper Berry Powder, Stinging Nettle
Prices: $28.78
Advertisement
*All individuals are unique. Your results can and will vary.
About the Brand: HairOmega, a health and nutrition company in Irvine, California.
Other Brands You May Like: Har Vokse, Viviscal, Groh Hair, HairAnew, and Hair Hero
What Are the Benefits of HairOmega?
Pros
HairOmega may support healthy hair growth.
This supplement could prevent hair loss.
It's rich in vitamins and minerals which nourish the hair.
It has antioxidants which could repair and protect the hair.
HairOmega may improve overall hair health.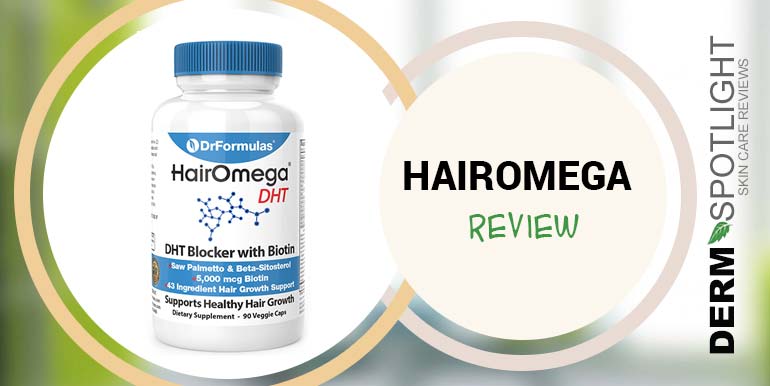 HairOmega Review. Image/Dermspotlight
What Are the Ingredients in HairOmega?
Here are some of the primary active ingredients in HairOmega DHT:
Copper – This is a chemical element, and it's also the third most used metal in the world. It can support the health of blood vessel tissue, which is why it stimulates the hair follicles. This ensures they receive a good supply of nutrients and oxygen which can cause new hair growth. A study in the Annals of Dermatology found that there was no link between low levels of copper and hair loss.
Stinging Nettle – This is a flowering plant called Urtica Dioica, which originates in Europe but now grows all over the world. It has a high iron content, which stimulates the circulation in the scalp and promotes hair growth. In addition, it can help combat hair loss. A study in the Journal of Applied Pharmaceutical Science concluded that a gel with nettle juice causes an increase in hair growth and elevated blood circulation in the scalp.
Vitamin C – Ascorbic acid is a strong antioxidant which can fix damage to the scalp and follicles and provide protection from environmental damage, like UV rays. It does this by killing free radicals and lowering oxidative stress. According to Dermatology and Therapy, it also increases the production of collagen, which is important for healthy hair and growth.
Advertisement
*All individuals are unique. Your results can and will vary.
How Does HairOmega Work?
HairOmega DHT is very high in vitamins and minerals which provide essential nutrients to the hair and follicles. This can strengthen the hair, which could encourage hair growth.
In addition, many of these vitamins and minerals are high in antioxidants which can repair the hair and follicles. They do this by killing free radicals and lowering oxidative stress. Antioxidants can also protect against outside damage from stressors like pollution.
An article in the Journal of Photochemistry and Photobiology examined the efficacy of antioxidants in human hair.
The product contains biotin, which helps develop the infrastructure for keratin. This is the main protein which makes up the hair. As such, it initiates hair growth, and it can also lead to more thickness. It also has anti-inflammatory properties, which can help with scalp conditions and reduce redness.
An article in the Journal of Drugs and Dermatology looked at both the clinical efficacy and social popularity of biotin for hair loss.
How Do I Use HairOmega?
The recommended dosage is 2 capsules per day. Take one after your morning meal and the second after supper. Do not take more than the suggested dosage for any reason.
Can I Take HairOmega While Pregnant?
No, you shouldn't take HairOmega while you are pregnant or breastfeeding, as it may risk the health of the baby. There are other pregnancy-safe hair loss supplements on the market.
Read Also – Hair La Vie and Nioxin Recharging Complex
How Much is HairOmega and Where Can I Buy It?
You can buy HairOmega on the manufacturer's website, on Amazon, eBay, and from many other online and offline retailers, including HairOmega Walmart. On the official site, the price for a one-time purchase is $28.78. If you subscribe to the monthly auto-shipment program, the price is $26.77 for a savings of 7%.
What is the Return Policy for HairOmega?
The manufacturer has a 60-day return policy. If you're not happy with the product, email the company for authorization and then send the item back within 60 days of the purchase and within 45 days of when you got your authorization. You'll get a full refund, minus the shipping and handling fees.
Advertisement
*All individuals are unique. Your results can and will vary.
HairOmega Alternatives
| Brand | Price | Active Ingredients |
| --- | --- | --- |
| Valotin Hair Growth Support Supplement | $24.95 | Vitamin D3 (as cholecalciferol), Iron (as Ferrous fumarate), Folate, Zinc |
| ScalpMED | $20s and 30s for individual products | Biotin, Minoxidil, Horsetail Extract, Turmeric, Green Tea, Pygeum |
| KeraViatin Hair Supplements | $39 | Keraviatin10 Complex, Saw Palmetto, Zinc, Selenium, Biotin, B vitamins, Bamboo, Curcumin, Sesame Oil, Bioperine |
| Hairburst | $20s and 30s | MSM, Collagen, Biotin, Silica, Zinc, Vitamins A and C, B Vitamins |
| Moon Juice SuperHair | $60 (One-time purchase); $54 (subscription) | Saw Palmetto, Pumpkin Seed, Zinc, Iodine, Ashwagandha, Organic Kelp Powder; Horsetail Grass Extract, Organic Red Radix Root Powder |
People Also Ask
Q: How Are the Reviews for HairOmega?
A: The majority of the HairOmega DHT reviews were very good. Most users found this product very helpful for hair growth, and said it made their hair longer, thicker, and fuller. However, there were also people who did not get the results they expected.
Q: How Long Before You See Results with HairOmega?
A: The manufacturer doesn't provide this information. However, with similar hair growth products, it usually takes from 3 to 6 months to see full results.
Q: Is HairOmega Safe?
A: This product is safe, although it could lead to mild side effects. In addition, the manufacturer warns that anyone with cardiovascular problems or low blood pressure should avoid the supplement. Whether you have a medical condition or not, you should see a doctor before taking Dr. Formula HairOmega DHT.
Q: Does HairOmega Have Any Allergens?
A: HairOmega contains soy and rice, which are common allergens. In addition, the manufacturer notes that they are made in a facility which processes milk, wheat, egg, peanuts, tree nuts, fish, and shellfish.
Q: Who Should Use HairOmega?
A: HairOmega is suitable for both men and women who are experiencing hair loss or thinning. Alternately, it's good for anyone who simply wants added hair growth, volume, and health.
Q: How Does HairOmega Compare to Other Hair Growth Supplements?
A: HairOmega is reasonably priced for the market; it's on the low side of average. However, for that price, you get a supplement packed with vitamins, minerals, botanicals, and antioxidants which support hair growth and health. It contains a more and a better collection of ingredients than many other brands.
Q: Who Makes HairOmega?
A: A company called Dr. Formulas manufactures HairOmega DHT Blocker with Biotin, and they have their headquarters in Irvine, California. They started in 2010. This is a nutrition and health company founded by doctors, and they produce dietary supplements and vitamins related to different health issues.
Q: Can HairOmega Have Side Effects?
A: There are some HairOmega DHT Blocker side effects which could occur in response to ingredients in HairOmega DHT Blocker. For example, saw palmetto may cause dizziness nausea, vomiting, diarrhea, headache, or constipation (3).
Cat's Claw Bark could lead to dizziness, vomiting, or headaches (4). Zinc may cause a metallic taste in the mouth, nausea, vomiting, diarrhea, kidney, or liver problems (5).
Conclusion
HairOmega is an organic supplement designed to increase hair growth, stop shedding, and thicken the hair. This product is rich in vitamins, minerals, and other nutrients which nourish and strengthen it. It includes antioxidants which repair the hair and protect it from damage.
The HairOmega reviews online were mostly quite positive. About 80% of customers found this to be a highly effective product that promoted hair growth, strength and thickness. Many people said they were planning to repurchase. There were a smaller number of poor reviews from people who didn't get the same benefits.
Some people may experience mild side effects in response to ingredients in the product. If you have unpleasant symptoms, discontinue use of the supplement immediately. You should get medical approval from a doctor before you start taking HairOmega Vitamins.
Up Next – Vibrance Hair Growth Vitamins and Nutrafol