What is Clinique Pep-Start Eye Cream?
Clinique Pep-Start Eye Cream is a fast-acting cream designed to make your eye areas refreshed and alive. The detail that stands out about clinique pep-start eye cream 15ml is that it works fast and that within 3 seconds it can revitalize and improve the general appearance of your skin.
It is made of peptide compounds that may offer a rush of hydration, to revitalize, refresh and brighten the skin. This is supposedly a prime product of Clinique Laboratories and that it is a popular skincare product in the US cosmetic market.
What is Clinique Pep-Start Eye Cream Use for?
The use of clinique pep start eye cream for dark circles comes with different benefits. Basically, it is meant to help keep the skin around the eye areas look young and alive. Its goal is to minimize under eye wrinkles and the early signs of aging, including under eye bags and the tired-looking skin around the eyes.
What Does Clinique Pep-Start Eye Cream Do?
How this clinique pep start moisturizer and cream works is that it quickly improves hydration around the eye area and that in less than a few in minutes the results can be visible. It has peptides and other rich skin moisture-enhancing components that support collagen production. Now while some results may be noticed instantly, the bigger picture is that the cream may eventually reduce the size of your under fine lines, skin depletion due to stress and fatigue, and keep your skin fresh and younger-looking.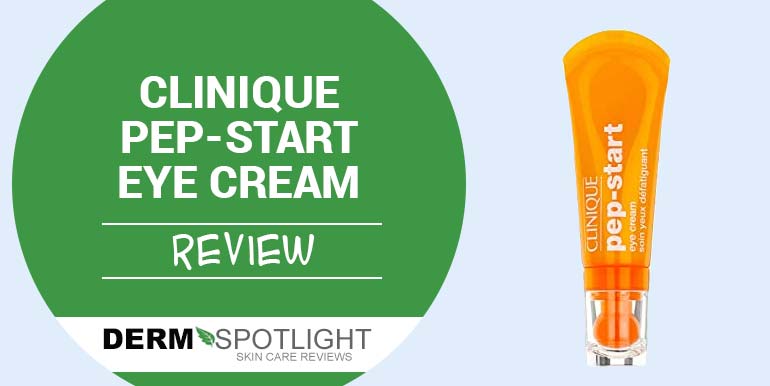 Clinique Pep-Start Eye Cream Review. Image/Dermspotlight
What are the Ingredients in Clinique Pep-Start Eye Cream?
Some of the active agents in clinique pep-start eye cream 15ml include:
Advertisement
*All individuals are unique. Your results can and will vary.
Squalane – This is an extract from olive oil and has been associated with numerous skins supporting benefits, including the capacity to treat skin conditions. In this case, it is noted with intense moisturizing properties, a claim that is supported by one review article in the Indian Journal of Dermatology.
Peptides – Peptides have posed as a major deal in skincare. They are said to support collagen synthesis which according to the International Journal of Cosmetic Science goes a long way to make the skin plump and smooth.
Shea Butter – This is notably a popular component in skincare products. Here it is said to help nourish the skin. A review article in Clinical Trials' US National Library of Medicine mentions that shea butter may be particularly helpful in treating skin conditions such as eczema and allergies.
Plant-based Antioxidants – Different studies agree that antioxidants may play an active role in reducing or controlling free radical damage on the skin, a claim that the Oxidative Medicine and Cellular Longevity also supports.
How to Open Clinique Pep-Start Eye Cream?
The way to open clinique pep start eye cream age is, you pop the ball tip on the applicator, and once opened, you can now squeeze out the recommended amount of the cream and place your hand to apply.
SEE ALSO – Revitol Eye Cream and Olay Regenerist Eye Lifting Serum
When to Use Clinique Pep-Start Eye Cream?
This cream is best if used in the morning and at night or before you go to sleep. Using it more times than the recommended may not add any extra benefit.
How to Apply Clinique Pep-Start Eye Cream?
Place a small amount of the cream from your applicator to your finger and massage the cream around your eye sensitive skin gently until it absorbs. Use it twice per day, morning, and night.
Clinique Pep-Start Eye Cream Alternatives
| Brand | Price | Active Ingredients |
| --- | --- | --- |
| RoC Retinol Correxion Sensitive Eye Cream | $15.20 | Retinol, Hydrolyzed Hyaluronic Acid, Palmitoyl Oligopeptide, Ascorbic Acid, Sunflower Oil |
| IT Cosmetics Confidence in an Eye Cream | $39.00 | Collagen, Ceramides, Peptides, Licorice Root, Niacin |
| SK-II LXP Ultimate Revival Eye Cream | $195 | Passion Flower, Hydrolyzed Soy Protein, Prunus Americana Kernel Oil |
| Tata Harper Restorative Eye Crème | $28.50 | Squalane, Peptides, Shea Butter and Plant-Based Antioxidants |
| La Roche-Posay Pigmentclar Eyes | $42.99 | Shea Butter, Phenylethyl Resorcinol, Niacinamide, Caffeine |
Clinique Pep-Start Eye Cream Reviews
In overview, this cream appears to have been in the market for a long time, and based on the reviews, the percentage of users that found it helpful is notably high. Also, it has an above-average rating, from most websites that show clinique pep start eye cream reviews. A detail that some people may find encouraging and compelled to give the product a chance. "Well, at first I thought the applicator looked weird but still went ahead and ordered. It is now some months down the line and I think it has made my skin smoother and brighter." – Hamilton.
ALSO READ – Neocutis Lumière Riche and OLE HENRIKSEN Banana Bright Eye Crème
Advertisement
*All individuals are unique. Your results can and will vary.
Where Can I Buy Clinique Pep-Start Eye Cream?
You can order it from the company's website. In precise, clinique pep-start moisturizer cream, clinique pep-start sunscreen, clinique pep start 2 in 1 exfoliating cleanser, and all the other products in this line are available on the official website, including the clinique pep-start kit. However, you can also get them from retailer sites as well.
How Much Does Clinique Pep-Start Eye Cream Cost?
A 15ml pack of this product retails at $28.50 on the official website.
Final Thought
When you carefully analyze the benefits that this particular cream claims to offer, you get the impression that the producer trusts it a lot. They say it may induce collagen production, refreshes the skin through deep moisturization, downplays aging signs, and reduces skin unevenness.
Also, what may make clinique pep start eye cream vs all about eyes worth the attention is the fact that it claims to work fast. Well, looking at the clinique pep start eye cream before and after images that were shot during testing may make you conclude that it works.
In texture this cream is thick and non-greasy but supposedly has the attribute of absorbing faster and that the results can be realized in a few seconds after you apply. Besides, the ball-tip applicator makes it easy to place the cream to the precise place on the eye areas that you want. The other notable fact about it is it is the best eye cream with lots of customer reviews online, and not major clinique all about eyes allergic reaction or complaints from users.
However, like most other products, it is open that not everybody finds it 100% helpful. For instance, only around 65% of people find clinique all about eyes eczema somewhat useful, the remaining lot claim it didn't do a lot for them.
According to your skincare needs, you can also check out the Lacura Eye Cream Review to make your eye areas look young and alive.
Up NEXT – Neutrogena Rapid Wrinkle Repair Eye Cream and Skinceuticals A.G.E. Eye Cream