Who Owns Instantly Ageless?
Greg and Kellie Serrault are the brains behind Instantly Ageless and on the company's website the duo share that they founded it in 2008. This brand focuses more on making anti-aging products.
Instantly Ageless Facelift in a Box was their first product and that it was the one that set the company's course, and remains their best selling product. Facelift in a Box is particularly designed to smoothen and tighten the skin, cover instantly ageless under-eye fine lines, work fast and effective on smoothing puffy under eye bags and wrinkles. as well as reduce the appearance of pores on the skin.
Today, Instantly Ageless' line of products has increased, with the brand motto being to provide an all-round solution to beauty. They have added hair care products, skin cleansers, and supplements to their list of beauty arsenal.
FAST FACTS
Instantly Ageless
Types: For All Skin Types
Uses: It is powerful anti-wrinkle microcream. It helps smoothen and tighten the skin. It is also effective in smoothing puffy under eye bag
Advertisement
*All individuals are unique. Your results can and will vary.
Active Ingredients: Magnesium Silicate, Sodium Silicate, Acetyl hexapeptide-3m, Vitamin E, Jojoba Seed Oil, Sodium Hyaluronate
Price: $19 – $100
About the Brand: Instantly Ageless® LLC was founded in 2008 by Greg and Kellie Serrault.
Who Sells Instantly Ageless Products?
This brand uses distributors and wholesale channels, who then sell the products to hair salons, beauty stores, spas, gift shops, and medical officers. According to the company's site, they are transparent and worth the trust as they have been in the industry for over a decade and that anybody can them directly for any inquiries or questions about their products.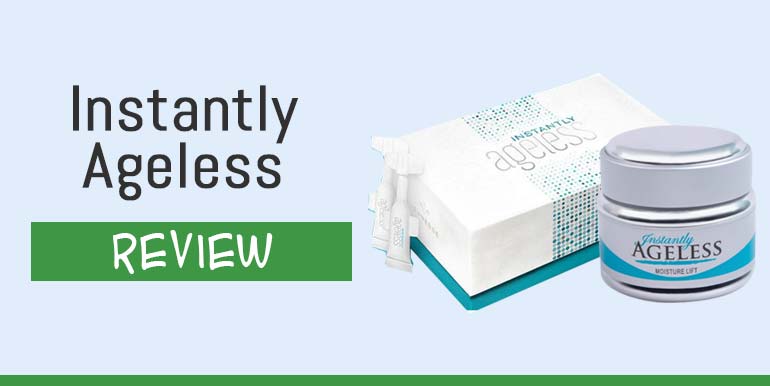 Jeunesse Global Instantly Ageless Facelift and Anti-Aging Cream Review – (Image/Dermspotlight)
Instantly Ageless Ingredients
Each item in this product line has its list of ingredients. Check on your favorite product's label to see what components it contains and whether they are safe with you. Being the most popular product that the company is known for, the Facelift in a Box Formula is one serum with supposedly industry-standard ingredients. Below are some Instantly Ageless Jeunesse ingredients found that make Facelift in a Box work:
Magnesium Silicate – This ingredient is a common component in Sunscreen topical agents. Combined with other components, magnesium silicate was seen to create a UVA protective coat on skin, according to one review article in the Evidence-Based Complementary and Alternative Medicine journal.
Advertisement
*All individuals are unique. Your results can and will vary.
Sodium Silicate – This ingredient has been linked to both skin and bone health properties, as it might support collagen production, a key component in such body tissues. An article in the Journal of Nutrition & Metabolism also associates it with reducing skin roughness.
Acetyl hexapeptide-3 – Different clinical studies agree that this peptide might play a role in making anti-aging topical products effective on skin, a claim that a study published in ResearchGate also appears to support.
Purified Water – While there is limited study on how purified water itself might reduce aging, in this case, it might play a role of dissolving the other ingredients in the formula. Nevertheless, the study featured in the Clinical, Cosmetic and Investigational Dermatology shows dietary water played a role in improving skin hydration, and that this might shed some light on the use of purified water in skincare.
Instantly Ageless Moisture Lift Ingredients: Vitamin A, Argireline, Sweet Almond Oil, Grape Seed Extract, Vitamin C, and Retinol
Vitamin E: A study published in the "Journal of Photochemistry and Photobiology" found that the skin is protected against the harmful effects of sunlight after topical application of vitamin E acetate.
Jojoba Seed Oil: In dermatological tests done by Christensen and Packman, it was shown that jojoba oil increases the skin's suppleness by 45% and after 8 hours the effect was still present.
Sodium Hyaluronate – has a smaller molecular size than Hyaluronic Acid (making it especially penetrative), and is able to hold more water than any other natural substance.
How Does Instantly Ageless Work?
Facelift in a Box might improve your skin's appearance. The serum supposedly seeps quickly into the skin's sub-dermal layer to go tighten the skin. It sorts of improves the bond strength between skin cells to keep them tightly together, making the skin appear firm.
Areas with loose skin have less elasticity, so this product increases elasticity to give the skin that lifted appearance and improved tone. Used with a good makeup regimen, Facelift in Box promises to enhance the beauty and that often desired youthful skin look.
Instantly Ageless vs Plexaderm – Which is Better?
Plexaderm is often considered the closest competitor to Instantly Ageless by the fact that it also offers anti-wrinkle benefits. Like Instantly Ageless this brand may help you avoid extreme skin treatments like surgeries or those painful skin firming injections. Both of these products claim to effectively fill frown lines, however, Instantly Ageless by jeunesse may have the advantage of working faster.
Advertisement
*All individuals are unique. Your results can and will vary.
ALSO READ – Meaningful Beauty Serum and The Ordinary Serum
Does Instantly Ageless Work Long-term?
Instantly Ageless's Facelift in a Box is designed to provide daily anti-aging benefits. That is, immediately after applying, it may effectively reduce under eye wrinkles, diminish enlarged pores, and restore the volume of your skin for the next 8 hours.
Does Instantly Ageless Eye Cream Work?
The company behind this particular cream is confident that it works if used correctly. Besides, from Instantly Ageless before and after images, there is evidence of notable change seen on the skin region that this cream was applied. As a temporally anti-wrinkle, yes, might work to keep your wrinkles less visible.
Can You Use Instantly Ageless with Makeup?
Yes, the cream is designed to be used with makeup. In this case, you will need to use a smaller amount of Instantly Ageless cream. Also, you shouldn't rub but tap on the cream using your hand when doing the makeup. If you are using a foundation brush be gentle and brush your makeup on the areas with Instantly Ageless to avoid disturbing the effect.
Key Products by Instantly Ageless
Some of the items in this product line include:
Instantly Ageless Facelift in a Box – This is supposedly a micro-cream with powerful anti-wrinkle properties. It claims to help diminish signs of skin aging, improve under-eye puffiness, and reduce fine lines.
Sands of Time – This is cream-like microdermabrasion and works as a skin scrubber to remove dead skin cells and other debris. It is designed to help maintain smooth looking skin.
Moisture Lift – This is a deep moisturizer that has Sodium Hyaluronate as its main ingredient component. Moisture content it might help diminish the look of skin wrinkles and fine lines.
Fiber Finishing Spray – This is supposedly an all-natural hair spray that claims to improve the health of your scalp, hair roots, as well as the hair tips.
Hair Building Fibers – This product may work to help thicken the user's hair, or simply keep your hair healthy and strong.
Can You Use Instantly Ageless on Eyelids?
The use of this product on the upper eyelids is not advised as some particles might slip into the eyes. However, you can use it on the under-eye area. For this use, lightly dab a small amount of the cream on the upper cheek towards the tip of the lower eyelashes. Additionally, Instantly Ageless can be applied to the eyebrow region.
Is Instantly Ageless Safe?
The different products in this skincare line are considered safe. In precise, you can safely use Instantly Ageless on the delicate skin under the eye, on your cheeks, face, chest, and even on your forehead wrinkles. Nevertheless, you should limit use on the upper eyelids.
SEE ALSO – Jeunesse and SIO Beauty Patches
How to Use Instantly Ageless?
Apply a generous amount of Instantly Ageless on the targeted areas of your skin, and wait at least three minutes for it to dry. You can reduce the drying time by fanning the area.
Instantly Ageless Reviews
Instantly Ageless has an official website that gives it that image of an established company by the fact that it is packed with most details, which clients wound to know about a brand. There is also a section where customers supposedly leave reviews about the particular product they have used.
After analyzing a few of instantly ageless eye cream reviews as well as the Facelift in a Box cream, it seems like most users are content with this product line.
A few comments from some users read like, "This facelift is all that I was looking for! I was skeptical about its ability to hide my under eye fine lines at first, but it has proved otherwise. I'll continue using it as long as they don't change the ingredients' profile."
Another user said, "It's been a few weeks and I think my crow's feet and wrinkles have notably diminished. I'm no longer concerned about my skin's appearance because I think Instantly Ageless has given the right arsenal to get rid of dark circles, eye bags, acne scars, and fine lines when aging come knocking."
Although most of these reviews make this product line appear reliable, the company needs to at least introduce a rating system similar to other retailer sites. Rating gives users the power to state openly their personal experience with a product, for instance, you know you cannot expect much from a product that is rated 1.5 out of 5 stars. But with 4 out of 5 stars, you know that product may work. Besides, they need to openly display the negative feedback or comments provided by users, if any. This again allows other potential buyers to know what they can expect on a product.
How Much Do Instantly Ageless Products Cost?
Facelift in a Box – $69.95
Sands of Time – $49.95
Moisture Lift – $39.95
Fiber Finishing Spray – $19.95
Hair Building Fibers – $39.95
Fiber Pump Applicator – $19.95
The Trio Bundle Special (one box Facelift, Moisture Lift, and Sands of Time) – $99.00
Closest Alternatives to Instantly Ageless
Although this brand is known with high rated products, it is not alone in the list of prime skincare products. Some better alternatives include serums from brands such as doTERRA Yarrow|Pom Body Renewal Serum, Image Skin Care, Advanced Dermatology, and La Mer Eyes Cream.
People Also Ask
Q: What is Instantly Ageless Made of?
A: Instantly Ageless Facelift in a Box is made from seven ingredients. Its key ingredients, however, are magnesium silicate, sodium silicate, and acetyl hexapeptide-3. The other four ingredients are purified water, iron oxide, phenoxyethanol, ethylhexylglycerin, and phenoxyethanol.
Q: How long does Instantly Ageless last?
Q: Does Instantly Ageless Offer Sample Products?
A: The company hasn't shared any information that shows willing users can order for free samples on any of their products.
Q: Is Instantly Ageless Tested on Animals?
A: The company claims that all their products are cruelty-free, not tested on pets or wild animals.
Q: Is Instantly Ageless sold in stores?
A: Instantly Ageless is not available to purchase in popular chain stores such as Sephora, Walgreens, or CVS pharmacy. Therefore, currently, the only means of obtaining this serum is by purchasing it online through either the official website or another reputable online store i.e. Amazon, Walmart, and Target.
The Final Word
All factors are taken to account it is safe to say that this brand is popular for a reason. Precisely, seems like most people are already content with the results from Instantly Ageless Facelift in a Box.
Besides, the reviews, it may be worth some attention to the fact that its ingredients have some scientific confirmation supporting the claims this product makes. In that, it might work to reduce enlarged pores, diminish the appearance of under-eye bags, and lessen the depth of fine lines.
In conclusion, this face serum can be a good one to start with if you need to keep your sensitive skin a bit tighter, and more even. You can check all the information including a demo on this product line on the instantly ageless website. However, the market has other cheaper anti-aging serums such as Plexaderm Rapid Reduction Serum and Clinique Serum that may work better for you.
READ NEXT – Nerium Skin Care and Boots No7 Serum