Jeunesse Global History
Jeunesse is a skincare brand that manufactures a wide range of products. The brand was founded in 2009 by two successful entrepreneurs, Randy and Wendy. According to some news outlets, Jeunesse's net worth was around $5billion going by an article that was published in 2018, after a worldwide sales analysis was done.
Along with skin support products, the company produces anti-aging creams, skin cleansing formulas, as well as nutritional support regimen in the form of dietary supplements that target to improve different aspects of healthy living.
Some of the frontline products by this brand are overnight serums, masks, peels, and Jeunesse vitamins. They also make night creams and eye creams that target to help diminish and eventually clear fine lines, wrinkles, crow's feet around the eyes, under eye dark circles and skin folds.
The brand prides itself on using state of the art technology in DNA and stem cell science to research the ingredients they use on their formulas, and that they have confidence in their products.
FAST FACTS
Jeunesse
Types: For All Skin Types
Advertisement
*All individuals are unique. Your results can and will vary.
Uses: It provides product for oevrall well being encouraging healthy living and youth enhancement
Active Ingredients: APT-200, Vitamins, Proprietary Blends, Purslane Extract, Fucoidan, Palm Fruits
Price: $20 – $546
About the Brand: Jeunesse was founded in 2009 by Randy and Wendy. The company offers anti-aging creams, skin cleansing formulas, and dietary supplements
Are Jeunesse Products any Good?
The fact that each individual product has some research backing some of their ingredients, it is possible that the products are good for their recommended function.
Are Jeunesse Products Vegan?
This brand offers a wide range of products and the fact is, generalizing the ingredients may not be a safe approach.
Advertisement
*All individuals are unique. Your results can and will vary.
Research on the particular product you are interested in to see whether the ingredients are vegan friendly or not, before placing your order.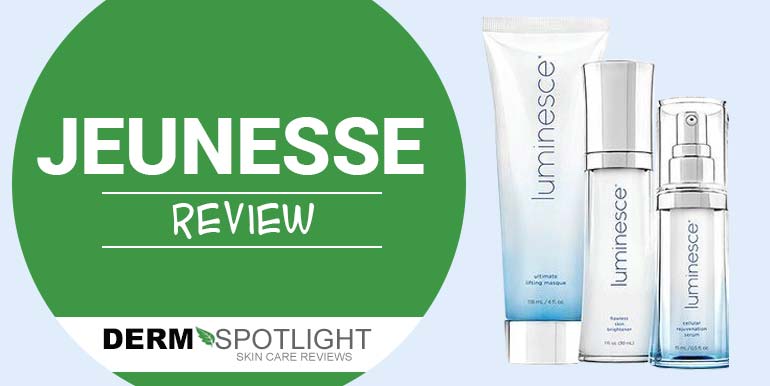 Jeunesse Global Review – (Image/Dermspotlight)
Jeunesse Ingredients Review
The ingredient profile for every Jeunesse product is original to each formulation and the company believes they are safe, for instance:
APT-200 – This jeunesse's patented compound and is particularly the active ingredient of Luminesce, one of the featured anti-aging creams. It is rich in polypeptides and may support a softer-looking, smooth skin. Polypeptides are found to have antiaging benefits according to an article in the journal Dermato-Endocrinology.
Vitamins – The Jeunesse's age-slowing product, AM Essentials is rich in different types of vitamins from Vitamin A, Vitamin C, Vitamin D, to Vitamin B6. Vitamins, in general, are essentials in maintaining the youthful function of the body including healthy skin, according to some research materials published in the National Library of Medicine.
Proprietary Blends – besides the rich vitamins and minerals, Jeunesse products are made from special ingredients blends. Some of the compounds that make AM Essentials effective include turmeric curcuminoids and Alpha lipoic acid among many others. Turmeric has been researched for skin maintenance benefits according to the journal Phytotherapy Research.
Purslane Extract, Fucoidan, Palm Fruits – These are the key ingredients of FINIT Set, what Jeunesse calls their most advanced supplement. Purslane Extract, for instance, has been tested with potential benefits in the treatment of a range of skin conditions, as suggested in the Journal of Pharmacopunture.
Other Ingredients: Hyaluronic Acid, Amylase, Neutral protease, Retinol, Argireline, Cellulase, Lactase, Lipase · N-acetyl-cysteine, Alpha and Beta hydroxy acids
Best Results From Jeunesse Skin Care Line! (Watch This Video)
Are Jeunesse Products Legit?
As a company, Jeunesse may be considered legit because they have an official website and that already there a people who have to use their products and gave feedback on them. However, there is always a great need to exercise caution when dealing with any company that claims to sell products online, and Jeunesse should not be an exception.
SEE ALSO – The Ordinary Skincare and Meaningful Beauty Products
Jeunesse Line of Products
This brand nicknames their product line as the Youth Enhancement System. That is, although each product is unique in function, all of them are carefully developed to help maintain a youthful look, radiant, and wrinkle-free skin. The dietary supplements also have the same objective, to help you maintain your youthful functions longer.
Advertisement
*All individuals are unique. Your results can and will vary.
Below are a few Jeunesse serum review and other products that the brand website features:
Jeunesse Instantly Ageless – This cream is said to improve the appearance of forehead wrinkles, frown lines, under-eye bags, and puffiness, and hide skin pore appearance in two minutes.
Jeunesse Luminesce Serum – This is an anti-aging cream that claims to work on restoring skin radiance and glow by clearing under eye wrinkles and fine lines.
AM Essentials – The product is supposedly packed with special proprietary blends, minerals, and essential vitamins such as Vitamin A (as retinyl palmitate and 85% as natural beta-carotene), Vitamin C (as ascorbic acid and ascorbyl palmitate), Vitamin D (as cholecalciferol), Vitamin E (as d-alpha-tocopheryl succinate and from mixed natural tocopherols), which may help slow premature aging and boost energy levels.
Reserve – This formula is made from a blend of superfruits that are said can help reduce the damage of free radicals as well as offer protection through its antioxidant properties.
FINITI – According to the company, this is their most advanced supplement, and that it is formulated from a blend of unique ingredients, including vegetables and fruit extracts that have skin restorative properties.
Jeunesse Skin Care Products List
Jeunesse products have been carefully developed to combine powerful benefits into a synergistic system of anti-aging skincare:
Jeunesse Flawless Skin Brightener – $132.95
Jeunesse Luminesce Cleanser – $44.95
Jeunesse Luminesce Daily Moisturizer – $69.95
Jeunesse Luminesce Night Repair Cream – $99.95
Jeunesse Ultimate Lifting Masque – $69.95
Jeunesse Luminesce Hydrashield Mask – $83.95
Jeunesse Luminesce Body Renewal – $59.95
Jeunesse NV 3D – $55.95
Jeunesse RVL Scalp Infusion Treatment – the powerful blend of botanical and proprietary ingredients – including Jeunesse exclusive HPT-6 – provides abundant nourishment. It's also a feel-good choice, as it's free of parabens, sulfates, silicones, and dyes.
Does Jeunesse Have a Compensation Plan?
In terms of refunds for people who find Jeunesse products unhelpful, yes. All you do is sent the unused item back, accompanied by the proof of purchase documents and you might get your funds back.
Buying Jeunesse Products
Jeunesse products are all available on the company's official website. Customers are free to either order products for their personal use, or they can decide to become a distributor and earn money. In precise, you can also become both the user and distributor, if you so wish.
At their site, there is a drop-down menu and you can choose the products you want from the three categories. Theirs is the innovation section, the personal care, and the nutrition section.
The innovation category lists the company's latest products that are technology and researched backed. Among others, this section features products with age-defying and anti-oxidative properties. The stem cell cream, in particular, may play is a key role in skin regeneration, skin cleansing, and reduce aging.
ALSO READ – SIO Beauty Reviews and Nerium Reviews
Can I become a Distributor of Jeunesse Products?
Customers or individuals who want to form a business relationship or become distributors of Jeunesse products are encouraged by the brand.
For more details on this, check on the details of how the program works on their site and check on some jeunesse MLM reviews to get a glimpse of what other people say.
How much one makes in profit depends on an individual's ability to qualify sales. As you find new customers, you build your commissions and rewards.
Return and Shipping Policies
The company allows product return requests to be made within 30-days. This money-back guarantee covers both retail customers and distributors who ordered the product for personal use. Users who order from distributors and then change their mind to want a refund must make a refund-request within ten days.
Worth noting also is, the return policy does not cover the shipping charges and that the customer is responsible to track and ensure the returned product reaches the company. Top on that, the consumer return request must be filled and the original receipt included.
Jeunesse Reviews – What Customers Say about Jeunesse
According to most jeunesse flawless skin brightener reviews, seems like this company has made most users happy. But on the other hand, there are few complaints that hint not everybody is pleased with this some items.
What are some Alternatives to Jeunesse?
If you're looking for skincare products to address the signs of aging, consider Plexaderm, Clinique Skincare, doTERRA Essential Oils, Boots No. 7 Serum and Advanced Dermatology.
People Also Ask
Q: What is the Company Behind Jeunesse?
A: The company that manufactures Jeunesse products is called Jeunesse Global Holdings, LLC. They have an established website full of detailed information about the products. Jeunesse products are supposedly made in the USA.
Q: Is Jeunesse Global a good company?
A: On the Trust Pilot website, a customer says it is an Excellent Company. He further says, "I truely believe this is the best Network Marketing company on the market. I have never seen such a good compensation plan in any other company before. Brilliant products make you feel balanced, look, and feel young and healthy."
Q: Is Jeunesse a pyramid scheme?
A: No, Jeunesse is not a pyramid scheme. It might be possible for the distributors to make money online by selling the products without recruiting anyone into the company. However, it is difficult to make any significant money this way or even cover the monthly sales quota.
Q: How much does it cost to become a Jeunesse distributor?
A: In order to become activated as a Jeunesse distributor, you must first pay $29.95 to purchase a personal Jeunesse website plus promotional materials. You must also purchase sufficient Jeunesse product to accumulate 100 Commissionable Volume (CV) points.
Q: Where is Jeunesse manufactured?
A: Jeunesse Global Products are manufactured in the U.S.A. and are exclusively formulated for Jeunesse.
Q: Are Jeunesse products FDA approved?
A: None of the Jeunesse Global Products are FDA approved as they fall under cosmetic.
Jeunesse Reviews Complaints
There are several complaints about this company. On the Better Bureau Business, a customer complained that she was scammed by a fake company that used Jeunesse's name, sending her a product that didn't work.
Another customer complained of not receiving her shipment and on calling the company's customer care she was put on hold and was never answered.
Final Word on Jeunesse Products
Jeunesse claims that their product profile is all geared towards helping the user live a youthful and fulfilled life.
In general, these products are meant to accomplish these nine things, diminish, rejuvenate, restore, defend, balance, beautify, enhance your skin, as well as energize you and enhance your mental clarity. However, like with all other beauty products or dietary supplements, not everything works for everybody.
To level up to this promise the brand offers a 30-day money-back guarantee that allows buyers to try their favorite product without losing their money.
READ NEXT – La Mer Cream Reviews and Image Skin Care Reviews